Ilkley Neighbourhood Development Plan (Regulation 16) July 2021
Ended on the 15 September 2021
5. INDP Policies and proposals
5.1. This chapter of the Regulation 14 Draft INDP sets out the planning policies and proposals that will be used to help us achieve our 2030 Vision and objectives. Each policy is set out under the appropriate INDP objective. Several of the policies should be read alongside the accompanying Policies Map. Each of the planning policies will be used to help assess planning applications when development is proposed. So, for example, Policy INDP12 (Protecting Ilkley's Landscape Character) does not promote or propose development in areas of landscape character, it sets out the criteria that have been identified, at this stage, which should be used when someone puts in a planning application affecting these sensitive areas.
Background/Justification
5.2. The single biggest issue for the future development of Ilkley, and the main area of concern raised by residents, both in the Questionnaire Survey, and through responses to the CBMDC Core Strategy consultations, was the impact of the Core Strategy's proposed housing growth on Ilkley; in particular the impact of this planned growth on Ilkley's setting and surrounding Green Belt, much of which is also a valued landscape and protected wildlife area. The protection of such important features have to be balanced with the benefits new housing can bring[1] in terms of meeting local needs, particularly affordable housing, and in supporting local services and facilities.
5.3. The Core Strategy growth target will see Ilkley, as a Principal Town, grow by 1,000 new homes by 2030 – an increase of almost 15% more homes, 2011-2030; or 2,300 more people based on average household size in 2011. The Core Strategy is currently at an early stage of a Partial Review. These figures may change as a result of that review.
5.4. Whilst there are opportunities for infill development within the town that may not necessarily lead to a detrimental impact on the town's character, meeting the growth target may necessitate significant release of Green Belt land (Figure 4 shows the current Green Belt boundary). The INDP seeks to promote efficient use of land by supporting appropriate densities: such effective use of land could reduce the need to release Green Belt land in the Bradford Allocations DPD.
5.5. In conjunction with other development plan policies and other policies in the INDP new housing should be of good design and have regard to the Ilkley Design Statement and CBMDC's supplementary planning document - Homes and Neighbourhoods - A Guide to Designing in Bradford and the National Design Guide (MHCLG, Oct 2019).
5.6. The revision of Green Belt boundaries, however, is not a matter for neighbourhood development plans unless the strategic policies in the area allow for this. Currently, this is not the case in terms of Core Strategy policy; this may change when the Partial Review of the Core Strategy is complete. Should Green Belt land need to be released it should be developed in such a way as to minimise Green Belt land release by optimising the density of development in line with the policies set out in chapter 11 of the NPPF.
5.7. Given this, the INDP's planning policy for future housing development covers only the existing built-up area of the Ilkley as, the INDP cannot consider surrounding sites in the Green Belt (Figure 4). Within this built-up area, whilst the Core Strategy acknowledges there are opportunities for infill development there are significant economic, social and environmental assets that need to be conserved and protected if Ilkley's valued quality of life is to be maintained. To ensure this is the case Policy INDP1 has been prepared to help manage future housing growth within the existing built-up area of the town.
5.8. Bradford Core Strategy Policy SC8 "Protecting the South Pennine Moors SPA and the South Pennine Moors SAC and their zone of influence". states that:
"In Zone A no development involving a net increase in dwellings would be permitted unless, as an exception, the development and/or its use would not have an adverse effect upon the integrity of the SPA or SAC."
Zone A extends 400m from the boundary of the SPA/SAC and so includes substantial areas of south Ilkley which border with Ilkley Moor, from Panorama Drive area in the west to Ben Rhydding in the east - including garden areas which are included in development proposals submitted to Bradford Council on a regular basis. To ensure that such inpacts are properly assessed criterion (f) of Policy INDP1 will be applied. Within the zones of influence and elsewhere one of the most significant biodiversity features of the neighbourhood area is the high concentration of ground nesting birds on open farmland and other green space. Many of these species are becoming increasingly rare, such as lapwing, golden plover, oyster catcher, curlew, skylark and meadow pipit. Where such land is functionally linked to the SPA/SAC any proposed development will be assessed for its impact against CBMDC Core Strategy Policy SC8. Many of these bird assemblages are also important in their own right and protected under different policy and legislation.
Background/Justification
5.9. Ilkley is identified in the CBMDC Core Strategy as a Principal Town. This is in recognition of the role the town performs within the Wharfe Valley and wider area as a hub for the local economy, housing, community and social infrastructure, and tourism.
5.10. The INDP will support the aim of protecting and enhancing Ilkley's role as a Principal Town so that existing services and facilities are retained, and the establishment of new facilities are supported in sustainable and accessible locations so that they can meet the needs of the whole community and visitors.
5.11. The services and facilities in Ilkley are key elements that contribute to the town's valued quality of life. They perform the social role of sustainable development identified in national planning policy. They provide accessible local services that meet the community's needs and support health, social and cultural well-being. The INDP also supports the policy in chapter 8 of the NPPF that seeks to achieve healthy, inclusive and safe places.
5.12. To ensure that quality of life is maintained, and, where possible, enhanced. The INDP identifies and seeks to protect key community facilities: being a land use plan the INDP can protect buildings and land, which it will seek to do, but not the services run from those buildings. The running of services is not a land use planning matter.
Background/Justification
5.13 As well as being a hub for services and community facilities, Ilkley also performs a similar role when it comes to recreation facilities, such as parks and sports facilities. There are many recreation facilities within the town including sports clubs (including one of the largest cycling clubs in the country), voluntary groups, the U3A, and local walking groups, all of which use recreation facilities which need to be retained. As with community facilities these recreation facilities make an important contribution to the health and well-being of the town. The INDP will, therefore, seek to protect the town's key recreation resources.
Background/Justification
5.13. Ilkley Town Council is required to provide a sufficient number of allotments for Ilkley's residents. Ilkley has four existing Town Council run allotments, these provide 160 plots. Ilkley has 7,052 households therefore the recommended minimum number of allotments is 106 (1996 National Allotment survey). However there continues to be a huge demand in Ilkley for allotments with all plots being let. Some have been divided into half and quarter plots to accommodate differing family needs, but the waiting list is still 95 and growing monthly. This means the waiting time for an allotment is long and unless additional allotments are provided, people may expect to wait for over seven years. Future needs are expected to increase. The INDP will protect existing allotment sites for local food growing, recreation and the health and social benefits they provide.
5.14. Policy INDP14 will encourage the provision of new allotments. Potential sites will be considered in Ilkley and Ben Rhydding. Allotments in these locations will help improve the geographic spread of allotments and improve local people's access to such facilities. This policy also supports the Community Orchard and will support the provision of more sites for community food growing across Ilkley and Ben Rhydding.
Background/Justification
5.15. The neighbourhood area is fortunate to have a wealth of built heritage and landscape assets. This "cultural landscape" contributes to the sense of place of the different neighbourhoods and areas, and helps to define Ilkley's physical identity. The town's rich mix of historic buildings, use of traditional and more modern materials, architectural details, and spaces between buildings, set within an upland moor landscape, all contribute to the unique character which makes Ilkley attractive to residents, businesses and visitors alike.
5.16. The response to the "We need to talk about Ilkley" questionnaire survey was overwhelmingly positive about the physical environment of Ilkley. The comments in response to Question 1 "What do you like about Ilkley?" included numerous references to the town's "pleasant environment", "the beautiful town", "the character of the town", "buildings" and "overall attractiveness". Similarly, there were many positive responses about the "surrounding countryside" and its "good accessibility".
5.17. The INDP has an important role to play in ensuring that this local character is conserved and, by encouraging new development to respond sensitively to its setting, should help to ensure that new buildings and alterations make a positive contribution to Ilkley's future architectural richness and diversity.
5.18. Ilkley will continue to face development pressures over the Plan period (up to 2030) and the INDP has a role to play in encouraging high quality design in new development throughout the town and wider area. INDP policies should aim to ensure change is accommodated sensitively and successfully, so that new buildings are properly integrated into the existing structure and fabric of the town.
5.19. Development should contribute positively to the visual interest and variety of styles in the town, and in so doing help to ensure that Ilkley continues to be an attractive and interesting place in the future.
5.20. Designs (including contemporary designs) should their take cues from the local character, distinctiveness and sense of place of areas within Ilkley. New housing and commercial development should be ambitious in providing high quality, bespoke designs which respond to Ilkley as a traditional Dales town with a lively sense of local community, adding value to the local townscape.
5.21. Retrofitting a traditional property requires different solutions to that of a modern cavity walled property. CBMDC has produced the 'Sustainable Design Guide: Increasing the lifetime value of new development and refurbishment (2006)'; supplementary planning document to assist with this. Retrofitting national guidance has now been incorporated into a BSI document PAS203S 'Retrofitting dwellings for improved energy efficiency' (June 2019).
5.22. In addition, modern architectural approaches can, increasingly, provide more sustainable solutions which reduce the carbon footprint of buildings and minimise consumption of energy, water and materials. Energy efficiency also contributes towards affordable warmth priorities and can play a role in reducing fuel poverty.
5.23. Applicants proposing additional new dwellings should ensure that such proposals do not have an adverse effect upon the integrity of the South Pennine Moors Special Protection Area (SPA) or Special Area of Conservation (SAC) as set out in Bradford Core Strategy Policy SC8.
5.24. Moving towards a zero carbon economy and adapting to the challenges of climate change are central issues for the INDP. Policy INDP5 seeks to encourage applicants for new housing development to move beyond prevailing standards to secure zero carbon development.
Background/Justification
5.25. There are three conservation areas in Ilkley: Ben Rhydding, Ilkley and Middleton. It is important that new development in the Conservation Areas is designed sensitively to ensure the special characteristics of each area are conserved and enhanced.
5.26. Applicants proposing additional new dwellings within the Conservation Areasshould also ensure that such proposals do not have an adverse effect upon the integrity of the South Pennine Moors Special Protection Area (SPA) or Special Area of Conservation (SAC) as set out in Bradford Core Strategy Policy SC8.
5.27. Each of the conservation areas has a conservation area assessment and conservation area appraisal, prepared and published by CBMDC. All CBMDC Conservation Area Appraisals should by updated every 5 years. These provide important information about the individual characteristics that help to make each conservation area special, including the scale, design and materials of buildings; location of listed buildings and key unlisted buildings; important trees; and key open spaces and views. The assessments also include guidance for new development.
5.28. As well as the general criteria in Policy INDP6 for the Conservation Areas theINDP also has separate policies for the neighbourhood's three Conservation Areas (Policies INDP7, 8 and 9).
Background/Justification
5.29. The extent of Ben Rhydding Conservation Area is shown on the Policies Map.
5.30. The Ben Rhydding Conservation Area Appraisal, 2006 sets out that the Ben Rhydding Conservation Area covering the historic core of the settlement and retaining elements from its history and development. In the 17th century the rural village of Wheatley consisted of around a dozen buildings, mainly farmsteads and cottages. In the 19th century the Ben Rhydding Hydro was developed as a spa and the village changed its name to Ben Rhydding. Expansion continued into the late 19th century. The core of the conservation area, including shops on Bolling Road and buildings on Margerison Road and Wheatley Avenue was built by 1909.
5.31. A summary of important features and details identifies the following:
Natural stone – elevations and roofing materials;
Traditional timber window frames, doors and guttering;
Traditional shop fronts;
Cast iron rainwater goods;
Stone boundary walls to properties away from Bolling Road;
Mixture of building types and architectural styles;
Snickets and historic street pattern, particularly the width and orientation of Bolling Road.
CBMDC 'Shopfront Design Guide' Supplementary Planning Document guidance should be followed in relation to shopfronts.
5.32. The INDP should promote and encourage new development to be sympathetic to the conservation area. Policy INDP7 takes forward design guidance from the Conservation Area Assessment and will be used to ensure that new development in this area is designed appropriately.
Background/Justification
5.33. The extent of Ilkley Conservation Area is shown on the Policies Map.
5.34. The Ilkley Conservation Area covers the historic core of the settlement which retains elements from various stages in its history and development. Following the abandonment of the Roman Fort and settlement of Olicana, Ilkley developed as a medieval village, in the 14th Century the Manor House was built, one of the oldest surviving buildings in Ilkley. The settlement was centred on Church Street and Brook Street, and by the 16th century there were several well populated farmsteads nearby. In the 18th century the settlement was centred primarily upon agriculture with some textiles and quarrying works. The development of the spa industries led to a new wave of growth. The success of hydropathy saw many new and imposing buildings in and around Ilkley.
5.35. Important features and details which contribute to the essential character of the Conservation Area include the following:
Unique mix of building types and architectural styles throughout the Conservation Area;
A variety of massing, height and scales of development;
Natural coursed Gritstone - elevations;
A variety of roof materials - stone slates (on earlier properties around the central areas); Welsh/blue slate or red terracotta tiles
(on later properties);
Traditional timber window frames (either sash or side hung casements), painted timber four panelled doors and guttering;
Corniced chimney stacks;
Unpainted stonework;
Traditional timber shop fronts with stone carved details and recessed doorways;
Stone boundary walls on residential properties.
5.36. Design principles from the Conservation Area Appraisal have been brought forward into Policy INDP8.
Background/Justification
5.37. The extent of Middleton Conservation Area is shown on the Policies Map.
5.38. Before the 19th century the area covered by the Middleton Conservation Area was part of the Middleton Estate. All of the Conservation Area was once covered by woodland which was used by the Middleton family and their guests for hunting, fishing and recreation. The Grade II* listed Low Hall was built in the 17th century and is one of the oldest intact houses in this part of Wharfedale.
5.39. Prior to 1899 Low Hall was the only building within the Conservation Area. Middleton had avoided industrialisation, urbanisation and mining in a time when many parts of Yorkshire, including neighbouring Ilkley, experienced rapid and considerable expansion. The sale of the area to the Wharfedale Estate Company in 1899, and the Middleton covenants, led to the master planning of the area as an exclusive, leafy housing estate for middle-class commuters, with large houses set in generous plots along broad avenues. The estates road plan and its character are still evident today and Middleton Conservation Area incorporates all the dwellings built by the Wharfedale Estate Company. Open spaces and facilities such as the Lido, sports grounds and street furniture, which were designed as part of, and are contemporary with, the early twentieth century housing estate, have survived and are still in use today.
5.40. The following provides a summary of the key characteristics of Middleton Conservation Area:
Large houses, wide roads, generous landscaped gardens and mature trees and hedgerows that create a spacious, leafy and salubrious suburban character.
A range of building styles and ages, including the 17th century manor house Low Hall, early 20th century Arts and Crafts and Vernacular
Revival houses, limited but good examples of 1930s modernist architecture, and more recent dwellings of varying quality built between the 1960s and the present-day.
A mixture of natural and man-made building materials which reflect the age and architectural styles of different buildings within the Conservation Area.
Predominantly residential but with large areas of open space and sports and recreational facilities along the banks of the Wharfe.
Middleton Woods to the north and the river to the south, provide a high-quality setting.
5.41. Design principles from the Conservation Area Assessment have been brought forward into Policy INDP9. As well as planning policy, existing covenants in Middleton may restrict development.
Background/Justification
5.42. The built-up area is enhanced by a number of important open spaces, these range from small, informal areas to large, formal open spaces, some are valued for their recreational value others for their beauty and biodiversity.
5.43. NDPs can identify and designate areas of Local Green Space. Such spaces are of particular local significance and when designated would be protected from new development in the same way as Green Belt. The INDP has to set out clearly the justification for such areas in order to protect them as Local Green Spaces, and the key factors in making such a justification is set out in the NPPF:
"99. The designation of land as Local Green Space through local and neighbourhood plans allows communities to identify and protect green areas of particular importance to them. Designating land as Local Green Space should be consistent with the local planning of sustainable development and complement investment in sufficient homes, jobs and other essential services. Local Green Spaces should only be designated when a plan is prepared or updated, and be capable of enduring beyond the end of the plan period.
100. The Local Green Space designation should only be used where the green space is:
a) in reasonably close proximity to the community it serves;
b) demonstrably special to a local community and holds a particular local significance, for example because of its beauty, historic significance, recreational value (including as a playing field), tranquillity or richness of its wildlife; and
c) local in character and is not an extensive tract of land.
101. Policies for managing development within a Local Green Space should be consistent with those for Green Belts."
5.44. At the Preferred Option consultation stage of the INDP 39 spaces were put forward for possible Local Green Space designation. Using information from this consultation and an assessment of each of the spaces against the criteria in national planning policy, the 17 spaces identified in Policy INDP10 are to be designated as Local Green Spaces. The full Local Green Space assessment is available as an accompanying evidence base document to the INDP.
Background/Justification
5.45. Bradford Local Plan Strategic Core Policy 6 (SC6): Green Infrastructure recognises the importance of networks of multi-functional spaces and routes as an integral part of the urban fabric which improve urban and rural connectivity.
5.46. Ilkley is fortunate to have a network of green spaces and green corridors, linking different areas of the town, open spaces and gardens within the town, and the town itself to the wider countryside. These are shown on the Policies Map.
5.47. The Ilkley Design Statement (2002) notes the importance of the town's Green Corridors:
"Green corridors, such as those from the Moor to the Grove via Queens Road and from the top of Wells Road to Brook Street via Mill Ghyll, bring the countryside into the town centre and provide valuable habitats for flora and fauna. Pedestrian access to open countryside is facilitated by the extensive networks of paths and "snickets".
5.48. These mainly well wooded corridors carry surface water from Ilkley Moor to the River Wharfe, and provide shelter for birds, wildfowl and small mammals and insects. Green corridors are important for bats and birds, where tree cover along the becks comes right into the middle of the built-up area, good examples being Wheatley Raikes, Backstone Beck, Mill Gill, Darwin Gardens Millennium Green, Parish Ghyll, Ewe Croft Beck and its tributaries Spicey Ghyll and Hebers Ghyll. The rail corridor is also a valuable corridor for wildlife.
At times, birds and animals' transit between the river and the moor using the green corridors as cover e.g. grey wagtail, dipper, hirundines, mallard, thrushes, badgers, bats and deer, and many smaller creatures. The gardens of private houses enhance these green spaces. Mill Ghyll has street and submarine lights. Hebers Ghyll has a network of Victorian paths and bridges providing access from Queens Road to the Moor. Given the sensitive nature of the surrounding countryside any enhancements to the network of Green Infrastructure should not increase pressure from recreational activity on such areas.
5.49. Policy INDP11 seeks to protect the network of Green Corridors and encourages new development to include new Green Corridors linking to existing networks. Many of these Green Corridors also form part of the Bradford Habitat Network (Figure 11) - this is seeking to strengthen the resilience of biodiversity to climate change and avoid local extinctions. The existing Bradford Wildlife Habitat Network will be augmented with more detail at neighbourhood level to help refine the Local Wildlife Habitat Network.
Figure 11 - Bradford Wildlife Habitat Network within Ilkley (Source: West Yorkshire Ecology Service)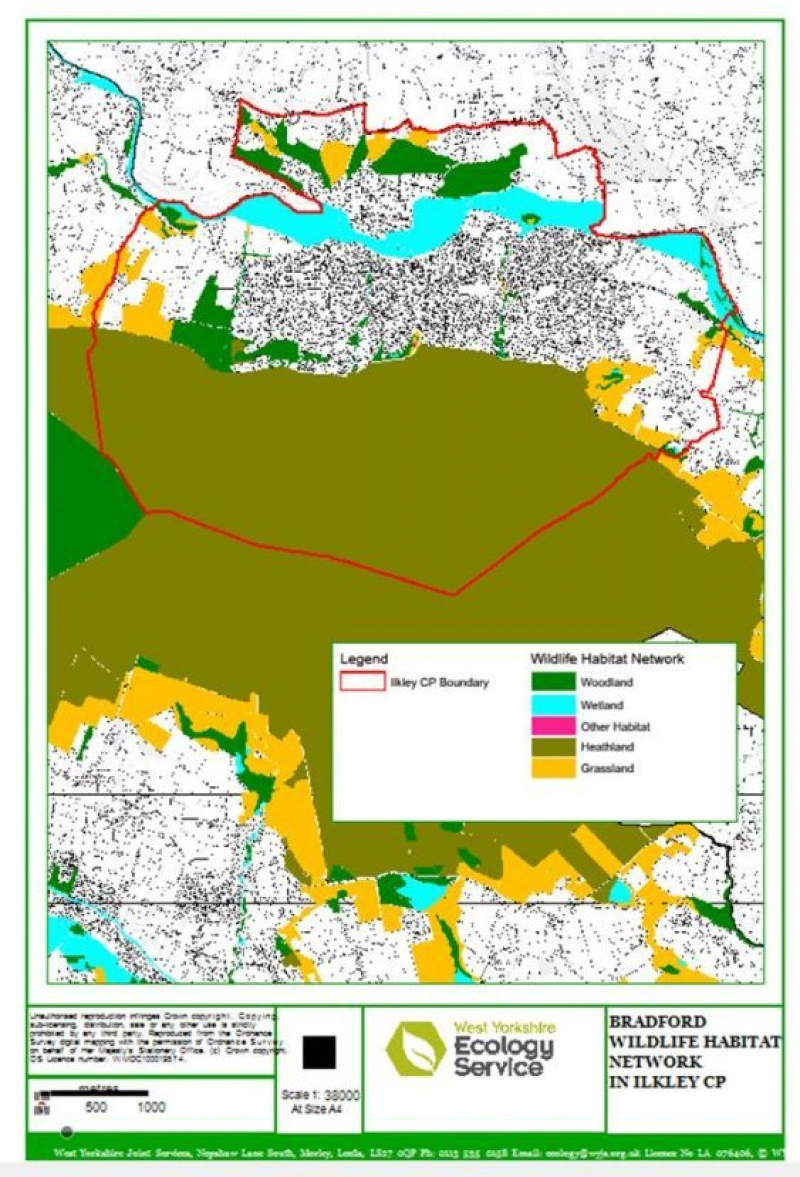 Background/Justification
5.50. The landscape character of Ilkley is a significant asset for the town. The river, riverside footpaths, and many recreational areas around the river, provide an attractive, wide, open and accessible landscape space within the urban area. The settlement itself is framed by a dramatic Pennine moorland landscape that rises straight up from the clearly defined edges of the town.
5.51. The area's landscape significance is also recognised in the Bradford Local Plan Core Strategy. Strategic Core Policy 6 (SC6): "Green Infrastructure" identifies the River Wharfe and South Pennine Moors as strategic Green Infrastructure assets; and in Sub Area Policy WD1: "Wharfedale", criterion D. "Environment" states that development is required to protect and enhance the role of the River Wharfe, and recognise the importance of field patterns, tree cover and the wider context of moorland, river and woodland in … contributing towards Wharfedale's distinctive character and its role as a gateway to the wider countryside.
5.52. The Bradford Landscape Character Supplementary Planning Guidance (LCSPG) 2008 provides an existing statement of the landscape of the area along with its distinctive attributes and features, which it is desirable to conserve and enhance. The Neighbourhood Plan Area is located within Character Area 4: Rombalds Ridge and Character Area 8: Wharfedale. Each Landscape Character Assessment details the condition of the landscape and the sensitivity of the landscape to change, along with providing a set of policy guidelines for development. The landscape character area that is part of Rombalds Ridge, and lies within the neighbourhood plan boundary, is identified as gritstone moorland. The area identified as Rombalds Moor forms the central backbone of the character area of Rombalds Ridge. Rombalds Moorland has a prominent skyline from the Wharfe Valley and the open aspect looking out from key viewpoints is a particular strength. The landscape character areas that form part of the Wharfedale area are identified as: wooded incline, enclosed pasture and floodplain pasture.
5.53. The Policy Guidelines provided in the Potential Development sections of the LCSPG have been brought forward into NDP Policy INDP12.
Background/Justification
5.54. Ilkley has many significant natural heritage assets, linking across and throughan extensive network of green (woodlands, grasslands, parks and other open spaces) and blue infrastructure (water features – rivers, streams, ponds etc.). The Ilkley Design Statement 2002 identifies the major areas of open land within theneighbourhood area: the Valley Bottom, Panorama Woods and Ilkley Moor in the south. There are also open land areas west of Myddleton Lodge and the woods and fields up to Slates Lane; and to the east of Ben Rhydding and Middleton.
5.55. Parts of the moorlands are of European significance for breeding birds and,therefore, they are given a high level of protection through wildlife legislation (as a Special Protection Area and Site of Special Scientific Interest (SSSI)) (Figure 12). As a Special Protection Area (SPA) and Special Area of Conservation (SAC), the South Pennine Moors are protected under the European Habitats Directive and the European Birds Directive because they contain habitat types which are rare or threatened, and due to the importance of the breeding bird population in the European context. Under its SPA designation the qualifying species are the merlin and golden plover and an assemblage of characteristic moorland and moorland-fringe species including the common sandpiper, dunlin, twite, snipe, curlew, wheatear, whinchat, redshank, ring ouzel and lapwing.
5.56. A range of impact pathways were identified through which proposals couldhave a significant effect, including urban edge effects, the potential loss of bird feeding sites and disturbance from increasing the numbers of people visiting the site for recreational purposes. A zone of influence" approach was adopted in core strategy policy SC8. The Habitat Regulations Assessment (HRA) of the Core Strategy indicated that proposals in lower tier plans, which would include neighbourhood plans, would need to be subject to further and more detailed assessment. As the boundary of the South Pennine Moors SAC and SPA adjoins the northern boundary of Ilkley, then a range of potential impacts need to be considered. The INDP has also been screened for the purposes of Strategic Environmental Assessment and Habitat Regulations Assessment, this report is available separately.
5.57. The sites of ecological significance within Wharfedale are:
Ben Rhydding Gravel Pits Local Wildlife Site
Middleton Woods Local Wildlife Site
Owler Park and Spring Wood Local Wildlife Site
Terrace Ghyll Local Wildlife Site
Crabtree Ghyll Local Wildlife Site
Briery Wood and Hebers Wood Local Wildlife Site
Panorama Wood Local Wildlife Site
River Wharfe SEGI (being assessed for Local Wildlife Site status).
N.B: A number of the Local Wildlife Sites are also Ancient Woodlands.
5.58. The results of the "We need to talk about Ilkley survey" demonstrated that thetown's accessibility to the countryside and wildlife are very important to local people. Comments in response to Q1 "What do you like about Ilkley?", included "The moor, walks on the moor and Middleton Woods", "the greenery and open spaces along the river", "environment", "proximity to the moors", "trees" and "riverside".
5.59. CBMDC'sLandscape Character Supplementary Planning Guidanceincludesvarious policy guidelines for the appropriate management of the landscape areas, including relevant advice that could be used in landscaping schemes to support local biodiversity.
5.60. Policy INDP13 encourages new development to protect and enhance localbiodiversity assets and to incorporate landscaping schemes which are designed to support local wildlife.
Figure 12 Area Covered by Special Protection Area and Site of Special Scientific Interest (SSSI) © Crown copyright [and database rights] 2019 OS 100055940 on behalf of Ilkley Town Council 1000057229.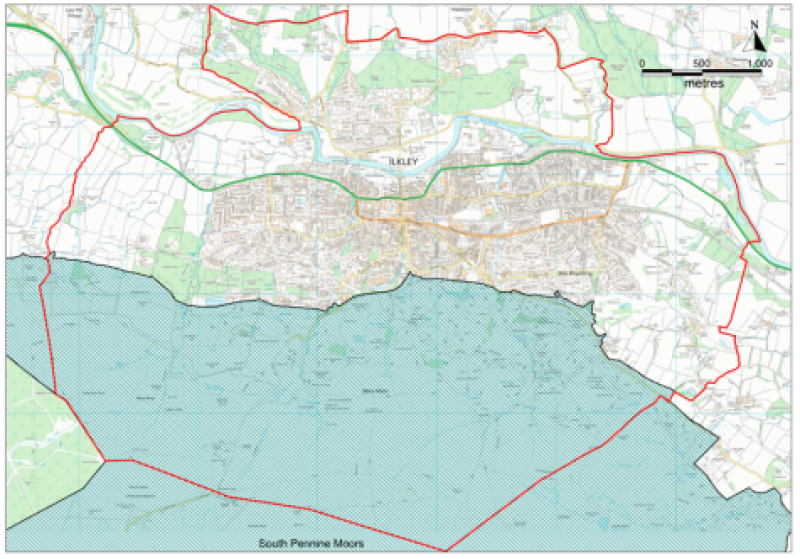 Background/Justification
5.61. Wharfedale occupies a strategic location in terms of its geography and functional links with the rest of Bradford district, Leeds district and West Yorkshire. This connectivity is attractive for residents and businesses but also poses problems in terms of maintaining good quality transport links and journey reliability times, particularly on roads such as the A65. Locally, from the questionnaire survey, we know that the size and form of Ilkley allow residents to walk to many of the things they use, such as jobs and services. A sizeable proportion of the local community also cycle. A drawback to both of those modes of transport can be the area's hilly terrain, however electric bicycles are helping make Ilkley accessible to more residents and visitors.
5.62. Car ownership in Ilkley is high with 83% of households having access to one or more cars; compared with the CBMDC area where 69.5% of households have access to one or more cars; and England where the figure is 74.2%. Many Ilkley residents commute to work, with the average daily commute being a journey of 20.9 kilometres (km); the comparable figures for the CBMDC area is 12.7 km; and for England 14.9 km. Despite the relatively good rail service Ilkley commuters mainly travel by car (52.7%) with just 15.5% using the train.
5.63. From this starting point, the INDP seeks to encourage further alternatives to the private car and the emissions they generate. To do this the INDP will support sustainable multi-modal transport solutions and sustainable walking and cycling access around the town and to surrounding areas, including support for the Wharfedale Greenway.
5.64. The level of car parking provision, both on- and off-street is an on-going problem. This has been raised by both local residents and the Town Council with CBMDC which carries responsibility for regulation of traffic (on-street parking orders) and management of certain off-street parking. These powers include setting of charges and enforcement.
5.65. Air pollution from vehicle emissions is a public health risk. The INDP's policies by encouraging walking, cycling, public transport, mobility sharing schemes (such as car clubs, car sharing and electric bike clubs) and low emission vehicles will contribute to reducing this risk.
5.66. Policy INDP15 sets out a set of principles that will be used to ensure that, where appropriate, new development improves the environment for all so that Ilkley becomes even more of a walkable and cyclable town.
Background/Justification
5.67. llkley has been a tourist destination for well over a century. The town has manybuilt assets which support tourism including Ilkley Lido, the Town Hall complex and the Manor House. There is an opportunity for the Cinema, Manor House, Castle Collective, and Playhouse to collaborate more closely to develop a creative heritage hub in this part of the town. This could be supported by sustainable public realm enhancements that encourage pedestrian movement and connectivity. llkley Moor is the predominant green asset along with the Dales Way and its footpath links from Leeds, Harrogate and Bradford. Ilkley has several parks and recreation areas such as the Riverside Gardens, Mill Ghyll and Hebers Ghyll. The maintenance and upkeep of these assets has suffered in recent years and the INDP supports and encourages their conservation and enhancement. The INDP supports CBMDC's Management Plan for Ilkley Moor. It also recognises the special status of the moor and adjoining land under the EU Habitats Directives. The Moor is a world-renowned landscape, highly regarded and much used for recreation by the community and by visitors. It provides exciting views and vistas on approach to Ilkley from all directions, and from virtually everywhere within the town. But being such a popular resource has its downside and such tourism needs to be managed in a way that conserves the environmental character of the area.
5.68. It is important to recognise that tourism is also a continuing and major financialand employment contributor to the modern Ilkley economy that will extend into the future, and that the key issues that adversely affect the visitor experience need to be addressed, for example infrastructure deficiencies such as car and cycle parking, toilet provision and signage.
5.69. As well as the Moor, the Lido and the River Wharfe there are many otherattractions that both visitors and residents can enjoy, including festivals, cultural and sporting events, and it is important that the Visitor Information Centre is maintained as a vital resource for information and ticket sales.
5.70. Policy INDP16 sets out the types of tourism related development that will beencouraged. This will support the aim of the Core Strategy to ensure that in 2030 Ilkley will have become a principal town with vibrant public administrative, cultural, retail, tourism and leisure functions.
Background/Justification
5.71. Ilkley town centre constitutes the "original" Ilkley which was the full extent ofthe town until the second half of the 19th century. It encompasses the two roads running east to west – part of the dominant A65 Leeds-Skipton road (Leeds Road/ Church Street) and a lesser route from Ben Rhydding comprising Springs Lane, Station Road and the Grove in the town centre. These routes are linked from north to south by Brook Street and this area contains the town's shops, pubs and restaurants, public buildings (including the Kings Hall), most churches, central car park and rail and bus stations. Supermarkets/large stores have been developed adjacent to the railway station (Marks and Spencer), Railway Road (Boyes), Leeds Road (Booths} and Springs Lane (Tesco). There is little open space, but the town centre is enhanced by the presence of well-maintained flower beds at the top of tree-lined Brook Street and along the tree-lined Grove. The Grove, and the way it is managed, are important features of public life in the centre of Ilkley. The bandstand in the grounds of Abbeyfield offers public amenity and the wooded Mill Ghyll serves as a green and physical link between the town centre and Ilkley Moor. All the central green and landscaped features should be preserved.
5.72. As Ilkley is identified as a Principal Town in the settlement hierarchy ofCBMDC's Local Plan Core Strategy, the town centre has an important role to play as a focus for the community and wider area. Ilkley's town centre role will be supported as a location for a mix of cultural, retail, tourism and leisure functions and office/ employment development on an appropriate scale. The extent and range of the town centre uses, coupled with the centrally located bus and railway station, means the town centre will continue to be the best location for shopping, services, leisure and employment activities to serve the people of Ilkley and nearby villages and visitors to the town and surrounding countryside. There is an opportunity for the Cinema, Manor House, Castle Collective, and Playhouse to collaborate more closely to develop a creative heritage hub in this part of the town. This could be supported by sustainable public realm enhancements that encourage pedestrian movement and connectivity.
5.73. Ilkley shopping centre is the third largest centre in the CBMDC area in termsof the amount of the retail and associated service uses floor space (Figure 13). Ilkley has the highest proportion of comparison goods shop units in the CBMDC area, reflecting relatively higher local incomes and the spend from tourism. Vacant units (6.1% in 2012) are also substantially below the CBMDC (15%) and national figures (12.2%) although this figure has increased at times, e.g. 2006-2012. Ilkley centre also has high proportions of floorspace for convenience retail and leisure uses. The CBMDC Retail and Leisure Study concluded that there is no need, over the plan period, for a new large supermarket in Ilkley. The retail policies outlined in the Bradford Local Plan Core Strategy seek to ensure identified needs are accommodated in the central shopping area of Ilkley or failing this on the edge of the centre at Lower Wellington Road as set by development plan policy. This provides the scope and flexibility for modest qualitative improvements in the shopping offer of the centre.
5.74. The Kings Hall and Winter Gardens, Ilkley Playhouse, Ilkley Cinema and the Manor House provide popular venues for theatre, music and other arts and literature events. Also, important to the enjoyment of the town centre are the independent specialist shops, restaurants and cafes, such as the Box Tree and Betty's that also attract visitors to Ilkley.
5.75. The INDP supports Policy EC5(J) of the Core Strategy in encouraging further residential development in the town centre provided it is above ground floor level. Proposals for non-retail uses in Class E should retain or re-introduce a shopfront in line with the Conservation Area Appraisal and Policy INDP19 of this plan.
5.76. Policy INDP17 sets out how Ilkley will remain a key local focal point for shopping, leisure, health, education and cultural facilities
Figure 13: Ilkley Town Centre and Primary Shopping Area © Crown copyright [and database rights] 2019 OS 100055940 on behalf of Ilkley Town Council 1000057229.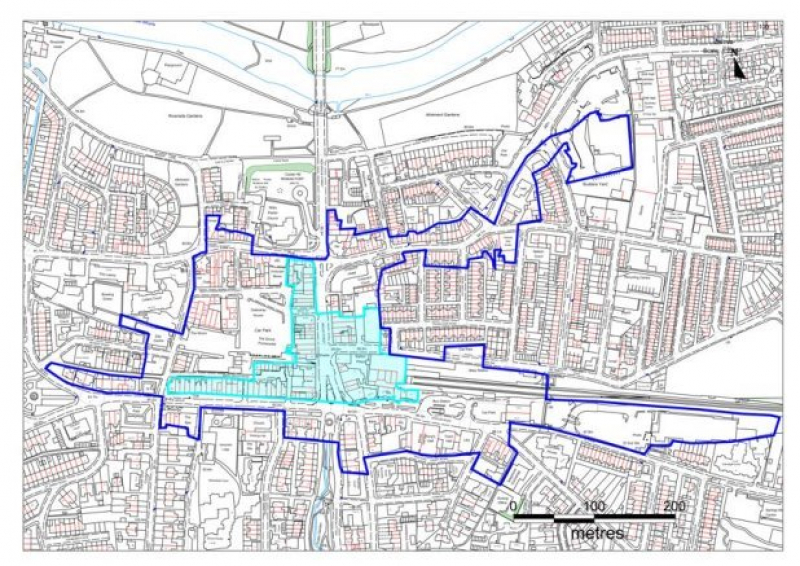 Key
Town Centre Boundary 


Primary Shopping Area 

Background/Justification
5.77. Policy INDP18 sets out to ensure that all new development that includesnew or replacement public realm features (street lighting, open spaces, paving, street furniture etc.) proceeds in a manner that uses design features, materials and colours that enable such public realm features to make a positive contribution to the immediate local and wider town environment and experience. By doing this the INDP will help to ensure that Ilkley retains and strengthens its already distinctive built environment. In this regard, off-the-shelf solutions using inappropriate design, materials and colours, will not be supported. Where development including public realm features takes place without the need for planning consent, agencies and developers will be encouraged to meet the requirements of policy INDP18. Those proposing new public realm should also seek to consult the local business community, Town Council and Civic Society before such proposals are finalised.
5.78. In particular, applicants should seek to introduce features and styles that areeasy to maintain and create a degree of uniformity that suggests an Ilkley brand or style. Clutter, through over-use of items, such as street furniture and signage, particularly where public realm projects have been implemented, incrementally, over long periods of time, should be avoided. Street furniture should have a purpose and obvious use, it should not be included just "for the sake of it".
5.79. Hard landscaping surfaces and boundary treatments should retain originalstone and ironwork. Where new materials are used they should be natural stone in the Conservation Areas and high quality, matching alternatives elsewhere
Background/Justification
5.80. Policy INDP19 sets out local policy on shopfronts, applicants are also directed to CBMDC's Shopfronts Design Guide Supplementary Planning Document and guidance on applicants for shopfront security
Background/Justification
5.81. Policy INDP20 sets out how the INDP could help manage and improve car parking in the town. This policy is not a planning policy of the INDP, this is a set of supporting actions that the Town Council will seek to influence the relevant body to implement.
5.82. Policy INDP20 identifies existing employment areas that should be protected for continued employment use. It is important to protect these areas so that Ilkley retains a reasonable balance between homes and local jobs. The loss of such areas, particularly for housing, could see the town become even more reliant on people travelling elsewhere to work. The CBMDC Employment Land Review (2010) also concluded that such sites should be protected.
5.83. The CBMDC Employment Land Review (2010 and 2011 update) concluded that within the centre of Ilkley there was only limited accommodation for business uses with large floor areas. In part, this was due to competition from higher value uses, such as retail. The majority of floorspace that is available is in converted terraced properties and upper floors. Some of this floorspace is in poor condition.
Background/Justification
5.84. To ensure that the INDP recognises the differing needs of all sections ofthe local community the plan will be subject to a process of Equalities Impact Assessment. This assessment will be used to inform the drafting of the INDP and its policies. We know from our questionnaire survey that most people feel there is a "quite or very strong" sense of community in the town.
5.85. The CBMDCInfrastructure Plan(2013) which takes into account the effects of1,000 new homes in Ilkley identifies school provision as a critical infrastructure issue in Wharfedale. There is an existing capacity issue, at both primary and secondary school level, in Wharfedale, due to its popularity. This will increase with the level of new development planned for the area. School capacity needs to be addressed for a number of reasons, including the impact it can have on social inclusion; quality of life and distance travelled and number of journeys, especially by car. The Infrastructure Plan indicates need for an additional 112 primary school and 98 secondary schoolplaces by 2028. These places will be met by expansion at existing schools.
5.86. Ilkley also has an older population (2011 average age 45.1 years) than the restof the district (average age 36.2 years) and England (average age 39.3 years). In 2011, 25% of Ilkley residents were aged over 65; 13.3% for the CBMDC area; 16.4% for England. This population is also ageing. To help meet the needs of all groups, and to ensure planning decisions are responsive to the needs of all, Policy INDP21 has been prepared.
---
back to top
back to top