Draft Bradford District Local Plan - Preferred Options (Regulation 18) February 2021
Ended on the 24 March 2021
4.0 Thematic Policies
4.0.1 This section of the plan is concerned with a wide range of thematic policies which build upon the strategic priorities and policies set out in section three of the plan. The plan includes a fairly extensive update and refresh to the thematic policies first reviewed as part of the Core Strategy Partial Review in 2019 and extends the range of policies to reflect a move to a single plan format.
4.0.2 The main purpose of many of the policies in this section of the plan is to provide a local policy context to assist with effectively determining planning applications.
4.0.3 The key policy areas covered in this section of the plan follow the overall format of the plan and include:
employment land and site strategy, employment zones, local skills / training and retail and leisure;
transport planning, including key delivery projects, the relationship between transport and the environment, development and tourism together with policies on parking, freight and aircraft safety;
housing delivery, density, standards and types as well as affordable housing, plus a range of specialist housing and accommodation policies and overcrowding and empty homes;
environment policies covering a wide range of topics, including green infrastructure, biodiversity / geodiversity and trees, historic environment, landscape, countryside, flood risk, air quality, environmental protection, energy, minerals and waste;
community policies concerned with open space, sport and recreation, local facilities and managing the impact of development on the health of communities;
design and practical policies to achieve better design, working with landscape and urban character and quality design in relation to streets, movement and safe and inclusive places.
4.0.4 The policies set out in this section should be read with the plan as a whole and in particular with section three (strategic policies) and where relevant the implementation, delivery and monitoring policies under section six.
List of policies:
4.1 Planning for Prosperity
Growing our Economy and Businesses
4.1.1 There are strong ambitions through the Bradford Economic Strategy and a move to a greener growth strategy for the District to be the fastest growing economy in the UK and this requires the right planning framework to support this ambition. As with all parts of the country Bradford has witnessed significant economic challenges through the impact of the pandemic and a previous period of investment uncertainty due to Brexit. The focus within this section of the plan is to support economic recovery and clearly set out our economic plan at a practical level for the District.
4.1.2 Strategic Policy SP6 provides the overall economic framework for the plan which also links back to strategic objectives within section 2. Work on the employment land forecasting indicates a minimum employment land requirement of 72ha which is anchored within SP6 together with employment land supply ambitions of circa 82ha over the plan period.
Policy Overview
4.1.3 Policy EC1 focuses upon delivering a clear employment land strategy which shadows the approach taken to housing delivery and growth through a focus upon maximising our existing assets and setting out strategic growth ambitions. Policy EC2 provides further policy direction for the development and delivery of employment and business zones within the District as part of this overall employment land strategy.
4.1.4 Tackling the deep seated challenges within parts of the District of economic inactivity, unemployment and skills and qualifications gaps remains a key local priority as part of the District economic and recovery strategy. There is much than planning can do to connect deprived communities to employment and skills opportunities while supporting practical development and these priorities are detailed within Policy EC3.
4.1.5 The role and performance of the City, District, Town and Local Centres is important to a prosperous District. Town centres are at the heart of their communities and are a focus for economic activity including retail, leisure, residential and community provision with accessible public transport connections. The global pandemic has reinforced the importance of local shops and services at the heart of our communities and Policy EC4 continues to support a strong role for maintaining and supporting our vibrant centres.
4.2 Preferred Option – EC1: Employment Land Delivery and Strategic Sites
Introduction
4.2.1 The local economy largely comprises of small enterprises although the District is home to a number of large businesses with recognised brands operating on an international scale. It is also home to successful creative, cultural and tourism based enterprises attracting a large visitor economy. The make-up of the District's employment areas generally consists of established employment locations where existing businesses and industrial uses predominate and other areas in which employment uses are integrated within residential and other uses within large built up areas of the District's urban fabric.
Employment Land Challenges
4.2.2 Over the years a complex mixture of factors including an ageing industrial stock, the changing nature of the economy and business requirements combined with the pressure to accommodate new housing growth and historically the difference in the value of housing land comparative to employment land this has facilitated an erosion of parts of the District's employment land base.
4.2.3 It is also recognised through the work undertaken as part of the Employment Needs Assessment and Land Review (ENALR) and feedback from business stakeholders that:
the existing office building stock is of particularly poor quality across the District;
there is an overall declining supply of industrial space within the District and evidence of latent business demand for employment land, and
there is evidence of a lack of business space opportunities to move within the District to new space as part of medium / larger business expansion which consequently in turn facilitates churn within the lower end of the employment space market for smaller and medium sized businesses to move or expand.
4.2.4 In general terms the employment land evidence indicates a lack of suitable industrial supply in the right locations has cumulated in a shortage of modern quality space to meet requirements.
4.2.5 The market intelligence work by Aspinall Verdi as part of the ENALR indicates that there is particular locational demand 'hotspots' for good quality employment space towards the north / north east of the Regional City of Bradford, south / south east Bradford and Keighley. There are also particular demands for employment space within the Wharfedale Valley. Demand to the west of the regional city is considered weaker with less swift road access to employment sites.
Employment Land Need and Supply
4.2.6 The ENALR (2019) was originally undertaken to inform the Council's preparation of policies for the CSPR to ultimately support the economy and help identify site allocations. Since that time there have been important changes in the economic environment and further work has been undertaken as part of the new Local Plan. This work undertaken by Edge Economics supplements the evidence originally produced and provides an analysis of future scenarios for employment growth along with associated employment land requirement.[1]
4.2.7 The updated evidence informing Policy SP6 using the latest REM forecast (August 2020) is considered to act as the strongest guide for total gross employment land requirement and results in a requirement for circa 72ha (an annual average of +4ha) for B2, B8 and E(g) uses over the lifespan of the plan. This is slight increase from the employment land need position of 70ha (60ha industrial and 10ha office) as detailed in the ENALR (2019).
4.2.8 The forecast includes an extended plan period (to 2038) and considers the implications of the pandemic, which is modelled on the basis of a 'delayed v-shape' recovery. In establishing the employment land requirement, a buffer of 50% has been used to provide for any potential margin of error associated with the forecasting process; a choice of sites to facilitate competition and market choice and allow for flexibilities and delays in individual sites coming forward. It is clear that economic forecasting is very challenging at this time in light of the impact of the pandemic and any longer-term fall out from leaving Europe. Further detail on the analysis undertaken including sensitivity testing is included within Edge Economics report which forms part of the updated evidence base to the plan.
4.2.9 Since the CSPR consultation stage, work has now concluded on the review of employment land supply options within the District. The detailed assessment of all employment sites is included within the Bradford District Sites Assessment Methodology and Report (2021), but in headline terms indicates that there is a non-Green Belt (greenfield and brownfield) open market employment land supply of circa 41ha. A small number of additional non Green Belt (greenfield and brownfield) employment land options have also been identified to directly support current operational businesses of circa 9ha, but not considered part of the overall open market land supply position.
4.2.10 It is clear at a strategic level from the employment land supply position within the District that there is insufficient non Green Belt land to meet the employment land need, leaving a gap of circa 30ha. If the District is to meet its employment land need position in full and continue to sustain economic growth through the plan period, then there is a need to allocate Green Belt land for employment growth to fill this gap. At a strategic level with the shortage of suitable non-Green Belt site options it is considered that there is an exceptional circumstances case for the release of Green Belt land to meet employment land needs. To date no neighbouring authorities have come forward through Duty to Cooperate discussions to take any of the District's employment land need outside the confines of the Green Belt.
4.2.11 In alignment with the Green Belt assessment methodology and published technical papers it is also the case that the release of individual Green Belt sites to meet employment needs also needs to be considered within the context of overall location, sustainability considerations, sectoral opportunities and Green Belt mitigation measures. The type and scale of available employment sites within the District is limited. This may hamper indigenous business growth and provides little relocation opportunities to support the growth of key sectors. The quality of sites has also been highlighted as a concern through the market feedback and intelligence work undertaken as part of the ENALR (2019).
Employment Land Strategy and Preferred Sites Options
4.2.12 The review of the employment land database has indicated that there are still employment land opportunities around the district's core economic areas to stimulate further investment. In addition to the enterprise, business and employment zones detailed under Policy EC2 there are opportunities to cluster smaller scale brownfield regeneration sites within and around zonal areas to maximise opportunities and diversify employment space.
4.2.13 Small employment sites have played a historic role within the Bradford District economy of supplying affordable workspace within the urban environment – often within and connected to housing areas. The local plan continues to recognise the important role that micro and small sites can play in supporting economic growth with a limited portfolio of sites identified. Many smaller employment sites however also often require remediation and infrastructure improvements to improve their market attractiveness The site threshold defined for employment site allocations is 0.25ha (or 500 square metres of floorspace) and above, which aligns with national planning guidance.
4.2.14 Bradford South East is dominated by the M606 logistics and employment corridor. Beyond the zonal areas detailed in Policy EC2 new employment land options are limited. Where there are remaining possibilities these have been considered as part of the overall strategy.
4.2.15 Airedale's site option mix (around Keighley primarily) has yielded a more limited range of deliverable site options than first considered as part of the CSPR – due in the main due to environmental constraints and alternative uses. The employment land focus as with other parts of the district remains connected to existing employment areas and estates plus key transport corridors.
4.2.16 The review of site options submitted through the call for sites in relation to the Wharfedale corridor has not yielded to date any suitably scaled and appropriately located employment site options which could be accommodated within the landscape and character constraints of the sub-area.
4.2.17 Table 4.2 below sets out an overview of non-Green Belt open market employment sites according to location and size and is benchmarked against the CSPR policy aspirations as detailed in the final column of the table. It clearly illustrates the limited range of sites and dominance of smaller sites within the overall portfolio.
4.2.18 With a site portfolio generally consisting of individual sites under 5ha it presents very limited opportunities for 'second move space' or opportunities for expanding businesses to relocate within the district to retain staff and skills. Beyond the identified zonal sites detailed under EC2 there is little in the way of large or strategic scale sites to assist with attracting new growth into the district or further diversifying the economy within key high performance growth sectors.
Table 4.2: Non Green Belt Employment Site Mix (All Types – Open Market)
4.2.19 Research on the property and land market as part of the ENALR (2019) draws similar conclusions - there is a need for a step change in the scale and quality of employment space within the district to support economic ambitions and jobs growth. This conclusion is also supported by a number of representations made through the CSPR identifying the constraints and barriers to local economic growth.
4.2.20 In order to meet employment land needs and deliver more scale and quality there is a need to consider growth outside the limited stock of brownfield / greenfield sites. In practical terms this means identifying land with the Green Belt for employment land and jobs growth. The exceptional circumstances case for Green Belt release is also explored further under Policy SP5.
4.2.21 A review of candidate sites has been undertaken as part of the employment site assessments which has concluded two major Green Belt located growth opportunities areas:
Land north of Westgate Hill Street - near an established employment zone and within a major transport corridor. The site is connected to a wider strategic growth area for housing and infrastructure improvements to the east of Holme Wood. As a key gateway site to the city this site presents opportunities to deliver high quality employment space within close proximity to the city edge and areas of high deprivation.
Apperley Bridge / Esholt Strategic Employment Area – broad area currently identified in adopted Core Strategy and primarily associated with a redundant brownfield site. This site offers potential for major economic transformation and due to the character of the site and locational opportunities could assist with attracting science, high technology and green economy orientated businesses.
Both sites need to come forward as part of comprehensive masterplans. Further site details and local strategies for these areas are also contained within Section 5 of the Local Plan.
4.2.22 In additional to 'open market' land supply a small number of sites have also been identified which are considered suitable for business specific uses due to their proximity to existing businesses and various site constraints. These sites are also included within the policy.
4.2.23 While often overlooked in the initial planning of employment sites there is a need to ensure regardless of location that all employment land come well served with digital infrastructure as part of the utilities planning stage of development.
Reasonable Alternatives - EC1: Employment Land Delivery and Strategic Sites
4.2.24 The key reasonable alternatives considered in drafting this policy include:
Splitting the policy into two and developing non-strategic and strategic employment land policies – generally easier to find and reference within single policy structure.
Keeping a 'looser' policy structure and listing sites in a table (in policy or referenced outside) – preferred option includes site listing within a delivery strategy or framework with further referencing and detail available within section 5 of the plan.
(10)Consultation Question 18
4.3 Preferred Option – EC2: Enterprise, Business and Employment Zones
Introduction
4.3.1 As part of the overall economic and growth strategy for the District to address some of the employment space challenges, the Council is working with stakeholders and businesses to establish a series of enterprise and business development zones to unlock and support improvements to the employment land portfolio within the District.
Enterprise Zones (EZs)
4.3.2 The Bradford District Enterprise Zones (EZs) consist of three major sites – Staithgate Lane, Parry Lane and Gain Lane all within the Bradford area and part of a much wider programme across the Leeds City Region and embedded within the Leeds City Region Strategic Economic Plan to provide high standard premises for expanding businesses or to attract inward investment. The particular economic focus for the enterprise zones within Bradford embedded is to promote advanced manufacturing growth, building upon the regions strong manufacturing heritage.
Business Development Zones (BDZs)
4.3.3 Within the District four areas have been identified for Business Development Zones (BDZs) namely:
Bowling Back Lane, Bradford;
Shipley from Saltaire to Dockfield Road;
Dalton Lane, Keighley, and
Royds Ings, Keighley
4.3.4 All the areas identified have a long history of employment related uses and industry and the purpose of the BDZs is to bring forward the regeneration of redundant land and premises, together with general improvements to the physical environment. The BDZs also provide a strategic set of locations for funding.
Employment Zones
4.3.5 The Council is also keen to maintain a strong range of traditional employment zones in urban areas within which existing business and industrial uses tend to predominate. In these areas employment uses will continue to play an important role in providing jobs for local communities. As part of the wider site allocation work programme, a number of these areas have been provisionally reviewed during the site allocation process in consideration of:
uses approved through planning applications;
their changing uses and character since first designated, and
the overall strategy and ambitions within the plan.
Initial findings only are presented at this stage with further detailed assessment required to inform further plan-making. The employment zones within the District are more extensive than the enterprise and business development zones but there is a strong synergy between the zones.
4.3.6 The main physical boundary changes to the employment zones are set out below in Table 4.4 and includes revisions to Silsden (South); Canal Road Corridor, and generally minor changes to the boundaries of the zones in South East and South West Bradford to rationalise land uses. More significantly, the removal of Bingley as substantially now developed for road infrastructure, and the removal of parts of Bowling is made to facilitate an extended city centre boundary and proposed new Southern Gateway regeneration area. Proposed changes within Bradford City are set out in detail within Section 5 of the local plan, but a greater diversification of uses is planned for the new extended Southern Gateway area to maximise growth opportunities within close proximity to potential transport investment (NPR Station) while also maintaining a clear business and enterprise focus within the overall gateway area.
4.3.7 Within the redefined Employment Zones it will be important to maintain and encourage new industrial and commercial investment, with proposals to erode the employment character and function of the areas resisted.
Table 4.3: Employment Zones and Changes
Reasonable Alternatives - EC2: Enterprise, Business and Employment Zones
4.3.8 Reasonable alternatives considered include:
Individual policies for each type of zone – not as simple a policy layout as a single policy format.
Combine zonal areas – while in some cases there is a lot of geographical cross-over between the zones their functions differ and multiple zone listing allows for a diverse approach to business retention, regeneration and inward investment.
Combine employment site and zonal policy – single policy approach considered too complex.
Remove threshold levels and criteria for change of use – policy introduces a degree of flexibility but also a clear focus upon protecting employment uses and activities.
(5)Consultation Question 19
4.4 Preferred Option – EC3: Employment and Skills Delivery
Introduction – Overview
4.4.1 Based upon ONS mid-year estimates (2019) the District has a total population of 539,775 with 330,965 people of working age (16-64 years). The percentage of working age population is lower at 61.3% than the West Yorkshire average of 62.8%. In line with other commentary the Bradford District has a higher percentage of 0-15 years at 23.7% (or 127,915 people) compared to the West Yorkshire average of 20.6%.
4.4.2 Economic activity rates for the age group 16-74 years indicates about a third of the referenced population group is economically inactive - circa 122,490 people (this excludes economically active unemployed people and full time students). This is above the West Yorkshire average (31.5%). The figures do include people 65-74 and may be reflective also of child and other care responsibilities within families – particularly members of the BAME communities.
4.4.3 Business Register and Employment Survey (BRES) data for estimates of workforce jobs in Bradford by industry groups indicates that the health sector is the largest industry sector at 15.6% of all people in employment, followed by manufacturing at 13.2% and education at 11.2%. Workforce jobs is based upon place of work not residence of the worker. Not surprisingly, the survey data also indicates that Bradford has a higher percentage of public sector jobs at 21.8% compared with the sub-regional average of 17.8% and national (England) average of 15.8%. Jobs in the private sector as a percentage is consequently lower.
4.4.4 Information on 'jobs density' or the number of jobs as a percentage of working age population is significantly lower in Bradford District at 62.6% compared to the West Yorkshire figure of 73.9% and national (England) figure of 76.3%.
Local Residents – Employment, Qualifications and Skills
4.4.5 The employment sectors of Bradford District residents indicate that the largest employment sector is retail, followed by health and social work and thirdly by manufacturing. In terms of job types people working in managerial, professional and associate professional occupations are lower at 34.9% of people in employment than the West Yorkshire figure of 37.7% and national (England) average of 41.1%. People working in elementary occupations is also slightly above sub-regional and national figures.[2]
4.4.6 Within the Bradford District the number of people on unemployment benefit (job seekers allowance and universal credit) is 31,525, which as a rounded percentage of working age population (9.5%) is above the sub-regional average (7.5%). Youth unemployment (18-24 years) and older unemployment (50 years plus) are both above West Yorkshire percentages.
4.4.7 Qualifications across NVQ equivalent levels 2, 3 and 4+ are lower than the sub- regional average with the proportion of the workforce with no qualifications being approximately about 27.7% of people aged 16-74 years, above West Yorkshire average of 25.9% and England figure of 22.5%.
4.4.8 Potentially reflective of the wider economic picture, annual household income at £36,871 is lower than the West Yorkshire average of £38,499. The Indices of Multiple Deprivation suggests that almost a quarter of a million people in the District are living in the most deprived 20% of areas of England for income deprivation. Similar numbers of people are also in the most deprived 20% of areas, for employment, education, health and living environment domains, with the crime domain at over one third of a million. The connected nature of deprivation and challenges for addressing employment and skills improvements cannot be under-estimated and form an important element of the local plan strategy.
Challenges and Opportunities
4.4.9 For some of Bradford's communities there are deep seated challenges in terms of economic activity and employment, with skills and qualification gaps identified at both the bottom and top of the labour market. It would however, be wrong to paint a negative overall picture of the District and it is clear from the analysis within local areas and neighbourhoods in section 5 of the Local Plan that Bradford's communities are incredibly diverse with many settlements in areas for example such as the Whafedale corridor performing very well in terms of economic, housing and health indicators. The District's diversity and relatively young and enterprising population also brings a certain dynamism to the local economy.
4.4.10 Part of the strategy for a prosperous economy is to create the right conditions and opportunities for significant jobs growth and prioritise the upskilling of the existing working age residents of the District. It is recognised that there are skills mismatches between segments of the working age population and local business demands. The District Workforce Development Plan: People, Skills, Prosperity[3] sets out to ensure local people have the skills that employers need, to improve the quality of jobs in the District and ensure local jobs and careers are available to all communities.
4.4.11 Construction projects including new housing, employment space and infrastructure have their own significant economic multipliers and the potential to support local skills development and traditional and specialist apprenticeships.
4.4.12 Policy EC3 builds upon ideas originally expressed in the CSPR and sets a policy framework through employment and skills plans to link construction projects to local education, training and apprenticeship opportunities, supporting local communities improve economic circumstances and build high quality skills and career paths. Further analysis will be required on threshold testing as part of whole plan viability considerations to support Regulation 19 stage of the plan.
Reasonable Alternatives - EC3: Employment and Skills Delivery
4.4.13 Reasonable alternatives considered include:
No specific policy EC3 and maintain a strategic policy position only within SP6 – would fail in practical policy terms to address key issues.
Different thresholds with variety of options – thresholds have been set to incentivise local skills and labour opportunities without compromising viability, but further work will be required on viability testing.
More limited scale policy – policy sections support a comprehensive package of measures.
(3)Consultation Question 20
4.5 Preferred Option - EC4: City, Town, District and Local Centres
Introduction
4.5.1 The role and performance of the City, District, Town and Local Centres are important to a prosperous District. They are at the heart of their communities and are a focus for economic activity including retail, leisure, residential and community provision with accessible public transport connections. Policy EC4 sets out the network and hierarchy of centres and the role each will play including the type and scales of development appropriate in each centre. Policy EC4 links to Strategic Policies SP2, SP3, SP4 and SP6, and will enhance the role and function of existing and proposed new centres within the City of Bradford, Airedale, Wharfedale and South Pennines. Policy EC4 will ensure that the city centre and principal town centres have a competitive role and function within the Bradford and wider Leeds City Region economy in support of SP6.
4.5.2 The aims of Policy EC4 are to:
Sustain and enhance the vitality and viability of the District's hierarchy of centres taking a positive approach to their growth, diversification, management and adaptation.
Encourage variety, choice and quality of retail, commercial, business and leisure provisions in the city and town centres and other district and local centres.
Ensure access by a choice of means of transport particularly the promotion of walking and cycling, to facilitate combined shopping trips and minimise the need to travel
Support healthy, competitive, adaptive, innovative and successful town centre provision including community and civic activities.
Retail Hierarchy
4.5.3 The retail hierarchy has been developed using evidence from the Bradford District Retail & Leisure Study (2019). The hierarchy will help to guide new development to appropriately sized centres across the District and ensure that future growth is adequately balanced. It is influenced both by the scale and status of existing centres, and is flexible in allowing centres to grow sustainably where recognised retail needs are demonstrated.
4.5.4 The City, Town, District, and Local Centres within Bradford District in general are performing well in their respective role as main commercial centre for their relevant catchment areas. The Bradford District Retail & Leisure Study (2019) commented that most of the centres have been maintaining good health supported by an appropriate presence of comparison and convenience offer, wide range of non-retail services, balance between independent and multiple stores, strong footfall, accessibility and safety. However, it is also acknowledged that some centres are not performing to their potential. Indicators pointing towards underperforming centres include high vacancy rates, lack of vitality during day/night time, poor built environments and a narrow retail offer, all of which influence how people make choices on where they wish to visit. The priority of the policy therefore is to preserve and enhance the health of these centres, retain and expand the current range of facilities and support businesses to adapt in response to changing economic circumstances.
4.5.5 In line with the National Planning Policy Framework (NPPF) paragraph 85 - 90, Policy EC4 seeks to ensure the continued vitality of town centres beyond just retail. The policy recognises that diversification is key to the long-term vitality and viability of town centres, and to respond to rapid changes in the retail and leisure industries. Accordingly, it aims to clarify the range of uses permitted in such locations allowing a suitable mix of uses (including housing) and reflecting their distinctive characteristics- all as part of taking a positive approach to their growth, diversification, management and adaptation.
Sequential Approach and Assessing Impact
4.5.6 In addition to defining a hierarchy of centres, the policy also outlines the requirements for the sequential approach and sets local thresholds when assessing the impact of planning application for retail and leisure uses in edge of centre or out of centre locations. The Bradford District Retail & Leisure Study (2019) has provided the evidence base for the revised impact assessment criteria under Policy EC4.
4.5.7 It is for the applicant to demonstrate compliance with the sequential test and/or impact test. Failure to undertake a sequential assessment and/or impact assessment could in itself constitute a reason for refusing permission. The sequential test and impact test should be undertaken in a proportionate and locally appropriate way, drawing on and sharing existing information where possible. The applicants and the Council should seek to agree the scope, key impacts for assessment, potential suitability of alternative sites and level of detail required in advance of applications being submitted. The steps taken for applying the impact test are set out within NPPG.
Future Requirements
4.5.8 Supporting existing city and town centres across Bradford District to help grow the local economy in an inclusive, innovative, adaptable and sustainable way is a Council priority as highlighted in the Bradford Council Plan 2021-2025 Policy EC4 will therefore support town centre improvement and regeneration programmes in order to create a prosperous district.
4.5.9 The 2019 study further presents an up to date health check of all the centres and indicates the likely future requirements for additional retail floorspace area in the District. The study highlights there is no quantitative requirement identified for any additional convenience goods floorspace within Bradford District's catchment up to 2034 once existing commitments are considered. In terms of comparison goods floorspace requirements, again based on a constant market share across Bradford District, it has been identified that by 2029, there will be 10,300 sqm of comparison goods floorspace required, increasing to 13,100 sqm by 2030.
4.5.10 The Council will continue to assess the retail and commercial leisure needs and capacity of the District and will take a proactive approach in relation to any future opportunities that may arise for new comparison and convenience retail developments, based on the location of such proposals, and the qualitative and economic benefits which occur from development.
Challenges and Opportunities
4.5.11 The pandemic is having a significant impact on the local economy and employment, and it is not yet known when this will end or what will be the exact nature of the economic recovery – the updated economic forecasts use a delayed 'v curve' but much could change. There are a range of predictions as to how Covid19 will change the supply and demand for retail, businesses and other commercial spaces. It is also uncertain which of these will become a longer term reality and which might fall away as the economy starts to recover from the impacts of the pandemic. Following the Covid-19 crisis there is likely to be a spike in town centre vacancies with unfortunately some businesses failing to re-open. Many operators have already announced job losses and store closures in the district.
4.5.12 The pandemic has more positively also highlighted the importance of local shops and facilities within walking and cycling distance of where people live and work, as essential to many communities. The continued move towards online sales amplified through the pandemic has also presented new business opportunities within local communities for businesses who have been quick to adapt to the challenging trading conditions with click and collect and delivery services. The Local Plan continues to plan for economic growth though policies which should help create positive conditions for trading across the District's diverse network of centres in which businesses can invest, expand and adapt.
4.5.13 The recent restructure and amendment to the Use Class Order in 2020, especially the introduction of Use Class E, has offered greater flexibility for the occupational mix of the town centres in order to respond more quickly to the unprecedented and unpredictable changes in occupational demand. The substantial amount of space potentially in play indicates a major possible scale of change in the make-up of the District's high streets and town centres. Although the extent to which this occurs will depend on the market and how the current uncertainties play out, Policy EC4 will seek to continue strengthening the role of each centre as a desirable place to visit, shop, live work and participate in social and cultural activities. The approach taken should allow each centre to build on its strengths, counter any weaknesses and address the challenges of the future.
4.5.14 The Council recognises that there is scope to diversify the city and town centres and improve the evening economy through the promotion and enhancement of commercial leisure and cultural facilities which will complement the role and function of city and town centres. There are opportunities to improve the quality and the range of restaurants, bars, public houses and evening entertainment uses within the city and town centres.
Reasonable Alternatives - EC4: City, Town, District and Local Centres
4.5.15 The following reasonable alternatives have been considered and discounted:
No or limited updates from the CSPR – this would not fully reflect the evidence base from the Bradford District Retail and Leisure Study
A radically reduced in scale policy – may not provide a full policy framework to the District's diverse centre.
Splitting the policy into individual policies covering specific topic – the single policy approach provides ease of use.
(11)Consultation Question 21
4.6 Preferred Option - TR1: Strategic Transport Delivery
4.6.1 The Council is planning a suite of transport schemes for delivery to enable sustainable, inclusive growth that improves the lives of people residing, working and visiting Bradford District. The efficiency of planning transport with respect to the environment is of paramount importance, as detailed in policy TR2. As a consequence, transport policies TR3 and TR6 focus on the need to reduce travel for people and goods, which can be achieved through careful planning, adopting mixed- use developments and incorporating digital solutions.
4.6.2 While reducing the need for travel is a key aspiration, for many people travel is inevitable to access workplaces, education, leisure and other amenities. To manage increasing demand within finite space, energy and environmental constraints, mode shift must be prioritised, with a focus on bettering quality of life. When well planned, travel is an enjoyable experience that contributes to quality of life, with active travel contributing most strongly to this. Those who cycle or walk to work consistently report that their commute is an enriching experience, whereas those who drive to work most consistently regard it as a stressful experience.
4.6.3 The Council is placing a strong focus on providing quality, accessible cycle facilities to facilitate cycling for everyone. These facilities will be designed in accordance with LTN1/20, Manual for Streets 2, (3), and the latest applicable cycle and walking design guidance. In some places, this will require constructing facilities on existing roads, while in others this will involve building new stretches of cycle track with walking potential. Walking is similarly a key focus for more local trips, and is the start and end of every journey. The Council will build on the existing network of public rights of way to create attractive, permeable, experiential pedestrian environments which cement walking as a desirable way to travel.
4.6.4 To meet ambitious climate change commitments and support the energy transition of the transport sector, as well as providing better connectivity for communities in the district, the Council is prioritising the timely delivery of key rail infrastructure, to support the movement of people and goods. In particular, the delivery of Northern Powerhouse Rail and associated rail improvements is foreseen, with necessary adaptations to include new stations that effectively knit the rail network into local communities.
4.6.5 To provide additional capacity and quality to strained public transport networks, and in the
knowledge that environmental and social imperatives require greater demand to be placed
on these, the Council is delivering dedicated public transport priority infrastructure. This
consists of bus lanes, junction improvements and other intermediate solutions between
conventional bus and rail, which will provide arteries for people's day-to-day transport
journeys and act as catalyst for transit-oriented development. The Council is also
progressing projects under the Transforming Cities Fund (TCF) banner for delivery by 2023.
These projects are aimed at boosting public and sustainable transport within Bradford city.
They will increase capacity for access to employment centres through road space
reallocation and reduce conflict between road users, while reducing the environmental
impact of transport by lowering carbon emissions. Bradford projects will improve conditions
for pedestrians and cyclists by expanding the car-free space in the city centre, create
segregated cycle-ways on two corridors, and create a high-capacity public transport route on
one corridor, with measures to encourage mode shift and interchange.
4.6.6 Mass Transit is a project covering the whole West Yorkshire metropolitan area which enables inclusive growth, boosting productivity and tackling the climate emergency simultaneously. The project is expected to be spread over the years covered by this plan and beyond and will slowly re-shape local transport networks around high-quality, high-capacity public transport.
4.6.7 The Council is currently delivering a range of highways and
junction improvement schemes many of which will be well progressed or completed by the
time the Local Plan is adopted – these are not currently shown on the Policies Map. There
are also ambitions for improvements to the public realm and range of transport
enhancements within Keighley and Shipley through the Towns Fund programme, which is
noted further under section 5 of the plan. To manage the pressure of road space re-
allocation, mode shift and enable housing growth and limited extensions to urban areas,
the Council is promoting highways schemes. These schemes will help deliver on the
Council's regeneration agenda. Feasibility and business case work is currently
progressing for additions to the PRN / KRN in South East Bradford (South East Bradford
Access Road) and Shipley (Eastern Relief Road) – these are outlined within Policy TR1 but
may be updated depending upon the outcome of current work programmes. A transport
study is also planned for Silsden to better understand the key issues within the town as
part of wider work on the emerging Transport Strategy and future infrastructure planning.
The outcomes from this work will be picked-up in the next edition of the plan.
4.6.8 In an effort to manage and improve the existing highways, public transport, walking and cycling networks, which will deliver the aspirational growth proposed through the Local Plan and other regeneration initiatives, the Council will support, safeguard and prioritise a programme of strategic improvements. Strategic transport investment and management priorities of the District, are as follows:
Reasonable Alternatives - TR1: Strategic Transport Delivery
4.6.9 The reasonable alternatives considered:
Update the policy but consider a less extensive range of changes – does not deliver a comprehensive approach to strategic transport project delivery.
Break policy approach into a series of smaller topics or themes – may add to plan complexity.
Reference projects in a table outside the policy in the reasoned justification rather than linked to transport topics within the policy – can cause confusion over what forms policy detail.
(23)Consultation Question 22
4.7 Preferred Option - TR2: Transport and Environment
4.7.1 Transport can negatively impact on the human, natural, built and historic environments, from path based countryside erosion to new roads harming ecosystems, destroying habitats and disrupting wildlife migration. Through its decisions, the Council will seek to improve the environmental efficiency of the transport system. New developments and will need to maximize the potential for sustainable transport minimize the land required for tarmac for parking and carriageway and ensure that people and goods move by transport which consumes the minimal total and energy and space.
4.7.2 The council will manage the impacts of transport on the human environment through limiting noise pollution and poor air quality for as long as these, impact health. At the same time, new transport schemes will be expected to deliver improved places for people to be in and move through, through reduction in real and perceived danger from vehicles, an improved climate from greenery, and ergonomic design.
4.7.3 The council will manage the impacts of transport on the built and historic environment through a considered focus on the design context of buildings and features.
4.7.4 The Council has a responsibility to protect and enhance natural environments through careful choice of routes and modes for travel. The Council is committed to increasing tree cover in all areas to contribute to a growing Northern Forest, and opportunities to increase tree cover through transport projects should be realized.
4.7.5 The Council will act with reference to its 2019 Climate Emergency Declaration, the broader West Yorkshire Climate Emergency Declaration, and in step with public expectation, to deliver schemes which respond to the need to mitigate the climate changing impacts of transport, and mitigate the impacts of a changing climate on transport. Policy TR2 establishes the Council's approach to managing the interdependence of transport and the environment.
Reasonable Alternative - TR2: Transport and Environment
4.7.6 The reasonable alternatives considered:
Integrate policy focus within other transport or environment policies – as drafted policy sets out clearly the interdependence of transport and the environment.
(12)Consultation Question 23
4.8 Preferred Option - TR3: Integrating Sustainable Transport and Development
4.8.1 Strengthening the integration of sustainable transport into new developments is essential to the delivery of the Local Plan and to address existing problems of congestion, carbon emissions and accessibility. Every new development offers an opportunity to further break with the notion that the private car is essential in ensuring quality of life. The Council is working hard to ensure that high-quality provision for sustainable modes is available in all parts of the district, and new developments must be prepared to take bold steps to question the role of the car, to design active travel into the heart of the built environment, and to structure dense development around access to high quality public transport.
4.8.2 In seeking to minimize the role of private cars in future developments, there will be a presumption in favour of development that sits higher up a hierarchy of:
Zero-Car development, where development is planned to generate no car trips
Traffic-Free development, where car trips are very heavily reduced by up to 80% of local prevailing rates, with internal circulation only allowing active and public transport modes, and servicing.
Car-Light development, where car trips are reduced by up to 50% of local prevailing rates, where active and public transport modes always have priority and greater convenience in accessing properties over the private car,
Unsustainable development, where car trips are reduced by between 0% and 30% of local prevailing rates, and active and public transport modes have parity in access with private vehicles.
All developments must consider equalities impacts of access. More detail on parking provision for each of these types of development is given in Policy TR5 and Appendix 4.
4.8.3 When planned well, new developments can reduce the need for people to travel, by placing amenities close at hand, but also by providing residents with access to quality digital communications links and places to make the most of these. New developments should, from the outset, seek to include high quality communications infrastructure such as full fibre-optic.
4.8.4 New developments should be planned to integrate healthy streets principles [as set out in accompanying diagram], providing ample space t for people to meet, converse and play. Developments should be planned to maximize both accessibility and permeability as set out in Appendix 3, with provision made for walking and cycling desire lines. Well- designed schemes can set new standards for encouraging people to use sustainable transport through consistent application of these principles and international best practice, including in Buses in Urban Developments (CIHT, 2018).
4.8.5 Planned enhancements to public transport, cycling and walking infrastructure are set out in the West Yorkshire Transport Strategy 2040, the emerging Bradford Transport Strategy 2040, the Local Infrastructure Plan and the Bradford District Cycling Strategy. Localised improvements will also be sought through the planning application process, through the design and layout and of high-quality developments as set out in policy TR3 below.
4.8.6 The sustainable transport framework for all new developments set out in Policy TR3 is complemented by accessibility criteria in Appendix 6 that define the levels of public transport accessibility needed to support sustainable development across the District; and is also supplemented by Policy TR2. The overall aim of the framework is to strengthen and clarify the integration of sustainable transport and all future development. The transport accessibility criteria have been used to inform the development of the Local Plan and site allocation process and the emerging Bradford Transport Strategy 2040, in order to identify highly accessible locations for development along with mitigation measures required to enable sustainable development. The framework set out in Policy TR3 will also be used in the assessment of planning applications to ensure future proposals maximise the use of sustainable transport modes.
Reasonable Alternatives – TR3: Transport and Development
4.8.7 The reasonable alternatives considered:
Integration of policy focus within other transport policies or within more generic development management policy – current stand-alone policy focus provides a single point of reference for application / development related considerations.
(159)Consultation Question 24
4.9 Preferred Option - TR4: Transport and Tourism
4.9.1 Tourism and leisure activities contribute to the District's economy and should be encouraged. However, tourism and leisure needs to be accommodated and promoted in a sustainable manner, therefore the policies on modal shift, public transport and active travel in the Local Plan also apply to those on a tourist or leisure trip. It is essential that the impact of transportation on cultural, historical and environmental heritage is mitigated through the application of appropriate Local Plan policies, for example in key destinations such as Haworth, Saltaire and Ilkley Moor.
4.9.2 New leisure and tourist attractions should be suitably located wherever possible to enable as many visitors as possible to arrive by sustainable transport modes. Part of making tourism more sustainable is to encourage people to engage in local attractions, thereby reducing travelling distances, retaining spending, and increasing local pride. For visitors travelling from outside the District, opportunities for sustainable travel, for example rail, should be promoted.
4.9.3 Peak spreading of tourism also helps its sustainability as pressure during the peak season on transport and other infrastructure can cause economic, social and environmental problems. Transport also has a role to play in becoming part of the tourism offer, both in terms of the actual trip being part of the tourism experience like using the Pennine Way or TransPennine Trail or specific transport related tourism destinations like the Keighley and Worth Valley Railway
4.9.4 Most of Bradford's tourist attractions are well served by public transport, particularly Saltaire World Heritage Site. It will be important to ensure that all promotional literature emphasise this good public transport accessibility to encourage the use of train and bus.
Reasonable Alternative – TR4: Transport and Tourism
4.9.5 The reasonable alternatives considered:
No reasonable alternatives considered – it is proposed to carry forward the policy in current form from the adopted Core Strategy.
(7)Consultation Question 25
4.10 Preferred Option TR5: Parking
4.10.1 Parking policy is a key lever that the Council will use to effect the transition to sustainable transport. People often choose how to travel based on the certainty of parking at their origin and destination, and the Council has no obligation to provide certainty of availability. The Council will manage car parking through planning and development decisions and transport policies to manage travel demand. This will support the use of sustainable modes of transport, heighten the quality of place and improve accessibility for all, including those with a disability. The Council recognizes that in order to use this lever to greatest effect, the transition may have to happen quicker than in neighbouring authorities, but will recognize these challenges and act with discretion in this regard.
4.10.2 In an effort to minimize the cost to society of parking provision, the starting assumption for new major developments will be that no on-site parking is required, with developers needing to prove any requirement for parking. Developers will be encouraged to retail parking separately to residential developments where possible. The forms of parking provision within new major developments should be considered hierarchically from most to least favourable:
Zero-Car: Highly accessible locations within dense centres where occupants can reliably access all key services without a car, and have no on-site vehicle parking provision
Traffic-free: Locations within or which create local centres, which are accessible, where vehicle parking can be provided off-site, at between 0 and 30% of standards set out in Appendix 7
Car-light: Developments at any location which car parking can be provided on-site but dis-connected with properties, where public transport and active travel access can be made better than by car, which provide vehicle parking at between 30% and 70% of the standards set out in Appendix 7
Unsustainable: Developments at any location where vehicle parking is provided in such a way that makes it more accessible than other modes, which provide parking at between 70% and 100% of the standards set out at Appendix 7.
4.10.3 At all levels of the hierarchy, developments must be inclusive in their parking provision and developments higher up the hierarchy and with greater travel need must make more provision for secure cycle parking.
4.10.4 Where it is demonstrated that car parking provision is necessary within new developments, it will be at appropriate levels, will support the overall quality of the area and will not detract away from the character and quality of street scenes. The Council supports a design-led approach to parking that encourages traffic-free street scenes which offer high-quality pedestrian environments. Large surface car parks and buildings set back behind parking should be avoided. More appropriate and innovative solutions can involve locating parking below and behind buildings, concealment and courtyards. Pedestrian and cycling desire lines from outside a development's boundary will need to be catered for.
4.10.5 The Council is committed to reducing vehicle parking in town and city centres which are highly accessible by public transport and active modes of travel, including at key central public transport interchanges. This will help the Council address the declared Climate Emergency. Short- and long- stay car parks in these locations will be subject to regular review as to their suitability and the creation of any such new parking capacity strongly disfavoured. This can be achieved through:
transfer of some parking spaces to short stay, subject to consideration of possible implications for traffic congestion.
re-allocation of motor vehicle parking to cycle parking
densification of developments and services
4.10.6 The Council will reduce on-street parking through parking controls, creation of controlled parking zones, and re-allocation of parking spaces:
to cycle, pedestrian and public transport traffic,
for public or business amenity,
to greenery and sustainable drainage.
4.10.7 The council will apply charges
to respond to demand, without undermining the vitality of town centres, or public transport,
proportionally to unified business rate level,
with regard to the nuisance caused by vehicles accessing it,
differentially to discourage all-day parking,
differentially to encourage electric vehicle use and charging,
Associated proportionate parking enforcement will be undertaken to ensure the effectiveness of the policy.
4.10.8 A number of transport bodies and railway undertakings also operate car parks in the form of Park and Ride sites across the District, these will be managed and enhanced to complement the approach of the Local Plan, West Yorkshire Transport Strategy 2040 and the Emerging Bradford District Transport Strategy. Park and Ride sites which enable people to complete onward journeys by bus, cycling and walking are sites which have the potential to complement local parking policies.
Reasonable Alternatives – TR5: Parking
4.10.8 The reasonable alternatives considered:
Integration of policy focus within other transport policies or within more generic development management policy – current stand-alone policy focus provides a single point of reference for application / development related considerations.
(12)Consultation Question 26
4.11 Preferred Option - TR6: Freight
4.11.1 The freight sector contributes 25% of West Yorkshire's economy and supports the wider economy by enabling business to take place and goods to be transported. Efficient access for goods and services, and the maintenance of efficient freight and distribution links, is a key factor in supporting the vitality of the District, although this must be reconciled with the need to make the towns and cities pleasant places to live and work, and attractive to visitors.
4.11.2 The best way to reconcile the need for these links and improving the quality of environments is by making much greater use of rail, whenever there is an opportunity to do so, and through greater consolidation of flows and co-location of this type of development. Rail should be considered a first choice for moving large quantities of goods and material, as it is best suited to this task, and has minimal external consequences on the environment. New developments should consider the potential for rail sidings, terminals, or light industrial railways for this purpose, and seek ways to remove reliance on road haulage.
4.11.3 In sensitive high-demand environments such as city and local town centres, new approaches such as "last mile delivery" should be taken to freight transport, that may rely on local messengers, cycle couriers, freight consolidation and use of electric vehicles. The council will act to create freight and servicing plans in such environments to best manage competing demands for scarce space.
4.11.4 The West Yorkshire Transport Strategy 2040 and emerging Bradford Transport Strategy 2040 contain guidance on freight and outlines how this industry and related business will be supported. These strategies will be used to guide investment decisions and for securing additional funding. They will set out what will be done to support the efficient movement of freight and how the adverse impacts of freight movement will be addressed. The Local Plan policies have been aligned to these transport strategies to ensure consistency.
Reasonable Alternatives – TR6: Freight
4.11.5 The reasonable alternatives considered:
Update the policy but include a narrow range of policy considerations or reduced range of changes – policy as drafted presents a focused succinct approach to the policy topic.
(2)Consultation Question 27
4.12 Preferred Option - TR7: Aircraft Safety
4.12.1 There is a need to ensure the safe movement of aircraft in the District, both to the Leeds Bradford Airport and to the emergency helicopter landing sites for Bradford Royal Infirmary and Airedale General Hospital. Aircraft safety can be prejudiced by the construction of tall structures such as chimneys, masts or multi-storey buildings, particularly on high ground, whilst even more modest development close to the helicopter landing facilities may pose fatal dangers.
4.12.2 The Leeds Bradford International Airport (LBIA) is located within close proximity to the District and is a major part of the strategic transport and economic infrastructure for the City Region. There are plans to design new terminal facilities for the airport and potential to grow passenger numbers from 3.6 million passengers per annum (mppa) to 7.1 mppa by 2030.[4]
4.12.3 The Civil Aviation Authority (CAA) has defined an Aerodrome Safeguarding Area for Leeds and Bradford International Airport (LBIA). In addition, the protection zone for the technical area (concerned with air traffic control) at Hameldon Hill, between Burnley and Accrington Lancashire affects a small area of the District. The safeguarded areas/ protection zones are neither the responsibility nor the proposal of the Local Planning Authority (LPA).
4.12.4 Government Circular 01/2003 (as updated) produced by the ODPM/DfT Safeguarding Aerodromes, Technical Sites and Military Explosives Storage Areas: Town and Country Planning (Safeguarding Aerodromes, Technical Sites and Military Explosives Storage Areas) Direction 2002, places a duty on the Council to consult LBIA on all planning applications falling within the Safeguarding Area and the provisions of the Direction, to ensure that development does not prejudice aircraft safety. In line with the requirements of the Circular, the outer boundary of the Aerodrome Safeguarding Area for Leeds and Bradford International Airport is shown on the map contained in Appendix 8.
4.12.5 This represents the area where buildings and structures, erections and works over defined heights are deemed to be a potential problem for aviation safety. Within this outer boundary are sub areas defined by the CAA relating to the specific height of development and developments likely to attract birds. The CAA has also defined a separate Aerodrome Safeguarding Area for Leeds and Bradford International Airport in relation to wind turbine development.
4.12.6 Circular 01/2003 places a duty on the LPA to consult LBIA about proposed wind turbine developments within a 30km radius of the Airport. The whole of the District lies within this defined area for aerodrome safeguarding in relation to wind turbine development. The Council may require additional information to be provided by an applicant, in order to fulfil its obligations to consult LBIA effectively under both the Circular and Direction. The Council and/or LBIA may also request additional information on cranes, lighting and other equipment which may be in use during the construction period, to ensure aviation safety and developers should be aware of this need.
4.12.7 With respect to the Hameldon Hill Technical Site consultations will be required for different heights of development depending upon their location within the safeguarded zone. This is because of the refracting effects of buildings upon radar signals and therefore the interference that can be caused affecting air safety. The area affected relates to a small area on the border with Calderdale at Stanbury Moor. It is not intended to show the detailed zoning however generally within the area consultations will only be necessary for development in excess of 45.7 metres high. On parts of high moorland, generally over about 390metres (1,280 feet) elevation, all planning applications will be referred for consultation. There is a sliding scale for consultations for varying heights of buildings.
Reasonable Alternatives – TR7: Air Safety
4.12.8 The reasonable alternatives considered:
Do not update the policy and include reference to part A of the policy only with further planning application considerations within the reasoned justification to the policy. The inclusion of planning application considerations outside the policy would not provide sufficient weighting.
(1)Consultation Question 28
4.13 Planning for Homes
4.13.1 There are strong ambitions for the Bradford District to increase the supply of homes of the right type and quality and in the right locations to meet the needs and aspirations of our diverse and growing population. This includes delivering high-quality homes in neighbourhoods where people want to live and thrive, that meet high quality environmental, accessible and design standards. The focus within this section of the plan is to support the delivery of sustainable housing growth across the District to provide a range of market and affordable homes that meet the housing needs of a range of different groups, enhances places and supports the District's economic ambitions.
4.13.2 Strategic Policy SP8 provides the overall strategic framework for housing growth in the Plan, which links back to the strategic objectives within Section 2. Work on meeting local housing need indicates the Local Plan will need to support a minimum housing requirement of 1,704 new homes a year over the plan period.The housing policies within this section will support the Council's objectives in the Housing Strategy for Bradford District 2020 – 2030 of More Home's, Quality Homes and Neighbourhoods and Homes for All.
Policy Overview
4.13.3 Policy HO1 outlines how the Council will support housing growth and delivery in the District through identifying a range of specific housing sites, including strategic sties and smaller sites. Policy HO2 relates to maximising the efficient use of land through minimum density requirements and significant uplifts in density in sustainable locations, close to public transport and services. Policy HO3 seeks to ensure that higher density urban housing development support urban intensification and place making and deliver a range of house types not just flats.
4.13.4 The Council's approach to meeting the diverse housing needs of a range of different groups within the District and ensuring an appropriate housing mix are detailed within Policy HO4.
4.13.5 Policy HO5 sets out the framework for delivering sufficient affordable housing of the right type and tenure across the District to meet identified need, reflecting both evidence of affordable housing need and viability.
4.13.6 Policies HO6, HO7 and HO8 relate to meeting specialist housing needs of particular groups including for Custom and Self Build Housing, older persons and people with disabilities and Gypsies, Travellers and Travelling Showpeople.
4..14.7 The Council's approach to delivering high quality, well designed homes and setting local housing standards for space and accessible homes is set out in Policy HO9, while Policy HO10 seeks to ensure the key housing priorities of reducing overcrowding and vacant homes are supported through the Plan.
4.14 Preferred Option – HO1: Housing Delivery, Strategic Sites & Managing Growth
Introduction
4.14.1 This policy outlines how the Council will support housing delivery, its approach to strategic sites and small sites and the need for managed housing delivery co-ordinated with service and infrastructure provision.
Consultation
4.14.2 The first sections of the policy are new and therefore were not subject to consultation in July 2019.
4.14.3 The Council did however receive a range of comments on Policy HO4 as part of the Core Strategy Partial Review, which dealt with managing housing delivery and phasing. A range of comments both in support and objection were received. The Council has noted the supporting comments, which often related to the desire to prioritise delivery of brownfield sites. The objections in the main questioned whether there was justification for the phased release of housing sites and whether it would undermine housing delivery. There were also some suggestions that it was not clear whether the revised approach was to phase the release of sites or not.
Supporting Housing Delivery
4.14.4 It is essential that the Local Plan includes policies and proposals which will ensure that that the housing required is delivered but also that housing growth is carefully managed and co-coordinated with infrastructure provision. Allocating and facilitating a land supply portfolio that contains a variety of sites of different sizes and locations will support housing delivery by providing for developers of different types and also different delivery models.
The Contribution from Strategic Sites and Small Sites
4.14.5 The Government, within the NPPF, indicates that the supply of large numbers of new homes can often be best achieved through planning for larger scale development. However, it also highlights the importance of small sites at the other end of the spectrum i.e. sites of 1ha or below.
4.14.6 For a variety of reasons, including the legacy of how the existing built up areas have grown and their relationship to remaining key areas of environmental constraint (most notably topography, landscape sensitivity, and flood risk), there are a lack of very large sites in the land supply and there are no reasonable options for pursuing new settlements. Although the district's land supply is heavily weighted to small and medium sized sites there are nonetheless a number of larger sites which are considered of strategic importance to supporting overall housing delivery and / or achieving the individual settlement targets set out in Policy SP8.
4.14.7 All sites, including strategic sites, are specified and allocated in Section 5 of the Plan however, three categories of strategic sites are set out in Policy HO1 below and the sites that fall within these categories are indicated in Table 4.14.1 below. These sites are highlighted because of their importance to delivery and because the Council are committed to working with partners to ensure where possible their early delivery but also ensure that they are planned and designed in a sensitive way, and that they are co-ordinated with the delivery and availability of local services and infrastructure.
4.14.8 The categories of strategic sites are:
Sites which will deliver 400 units or more;
Sites / locations where a closely located cluster of sites will, in combination, deliver 400 units or more; and
Large sites of at least 150 units which are fundamental to the delivery of a settlement's housing target.
Table 4.14.1: Strategic Sites
4.14.9 Small sites can also make a significant contribution to meeting the district's housing requirement. The Government in the NPPF indicates that to promote the development of a good mix of sites local planning authorities should identify, through the development plan and brownfield registers, land to accommodate at least 10% of their housing requirement on sites no larger than one hectare. Table 4.14.2 below shows that in allocations alone, the Plan meets this requirement. In reality the contribution percentage will be greater as this figure does not include supply from windfall sites.
Table 4.14.2: Small Site Contribution to the Housing Requirement
Managing Housing Delivery
4.14.10 The adopted Core Strategy Policy HO4 includes proposals for the phased release of housing land. The effect of this policy is to hold back a proportion of sites until later in the plan period and was considered necessary in the light of the scale of housing development proposed and the need to manage growth and change in a sustainable way. The policy indicated a range of criteria which would be used to determine which sites would be released from the outset and those which would be released later in the plan period including the need to achieve targets for delivery on brownfield land, to encourage regeneration, and to reflect infrastructure plans and programmes. However, it was not a brownfield first policy and it was made clear that it was vital that the approach to the selection of sites within the two phases did not undermine overall delivery, the maintenance of a 5-year land supply and the delivery of a range and choice of sites.
4.14.11 The Council still considers it vital to manage housing growth in a sustainable way and there may be occasions where sites may need to be held back pending the implementation of other proposals, such as essential infrastructure. It is now however considered that there is less justification for sites to be phased for a number of reasons. Firstly, the overall scale of housing delivery in the reviewed plan has been significantly reduced, in particular within the smaller settlements. Secondly, the District has continued to see issues with lower than required levels of housing delivery and the need to establish a five-year land supply. A more flexible approach, which allows for sites to come forward where the market is able to deliver them (unless there are valid planning reasons to prevent this) would therefore be justified.
4.14.12 The Council is mindful of a number of further factors. Firstly, the need for developers to have a clearer picture of when land may become available and for infrastructure and service providers to be clear as to when development might occur. This certainty could enhance the prospects for securing investment and service improvements. Secondly, the need for larger sites to commence delivery as soon as practicable. The Council is required via its evidence base including its housing trajectory to show that its housing requirement will be met within the plan period. Delaying the commencement of development on larger sites could have the undesirable effect of extending their delivery beyond the end of the plan period and result, ironically, in more green field and Green Belt sites being allocated. Finally, the Council notes that while the need to manage growth in a sustainable way is reflected in Government Guidance, there is no specific requirement to use a phasing policy to achieve this.
4.14.13 The revised approach to managing housing delivery is set out in Policy HO1 below.
Using land supply and other aspects of the evidence base, the Council will identify where there may be constraints which may mean that sites either may or should be delivered later in the plan period or where it may be justified to hold back the release of sites. In some instances, this may relate to site constraints which are yet to be resolved, in others to on or off-site infrastructure issues. The Council is currently investigating and developing measures to improve air quality in parts of the district and there may be instances where sites may be held back based on the need for air quality improvement measures and interventions to be put in place.
Reasonable Alternatives – HO1: Housing Delivery, Strategic Sites and Managing Growth
4.14.14 The main reasonable alternatives considered for Policy HO1 include:
Delete the Policy as there is no specific requirement in the NPPF to include such a policy or to phase sites – there is however still a need to ensure that sites are delivered in a sustainable manner and housing delivery is a key Government and Council goal;
Retain a policy as per the adopted Core Strategy which places sites into one of two phases and holds back the release of a whole tranche of sites until the second half of the plan period. As indicated above due to the reduced scale of planned growth it is considered less essential for such an approach. While retention of such a policy may have the benefit of supporting the delivery of brownfield land this would be by no means certain to happen given the nature of the housing market, low land values and marginal viability in many such cases.
(171)Consultation Question 29
4.15 Preferred Option – HO2: Housing Density
Introduction
4.15.1 A key component of sustainable housing growth is to ensure that land is used as efficiently as possible, in particular in locations well served by public transport. The policy background to the Council's housing density policy is provided in the NPPF which requires that where there is an anticipated or existing shortage of housing land planning policies should avoid homes being built at low densities.
4.15.2 Bradford faces a significant challenge in the identification and delivery of a sufficient number of homes to meet a growing population. Land whilst available to meet the need often lies in sensitive locations or has environmental and physical challenges preventing it being suitable or capable of being brought forward and, as a consequence, the scale of both deliverable and developable site options is limited.
4.15.3 The scale of the housing requirement means that the Council consider that it is necessary to have a density policy in the Plan, which seeks to protect the land supply from both inefficient scheme layouts and housing schemes which provide only limited forms of development through large houses or plots, that do not provide for either the needs of the local community or maximise the potential of the site.
4.15.4 Policy HO2 will ensure that sites are not developed at low densities. The policy is supported by other strategic policies such as the location of development and those on housing, including Policy HO3 – Urban Housing.
Housing Density
4.15.5 The Core Strategy Partial Review made a number of changes to adopted Policy HO5: Density of Housing Schemes, which included raising the minimum target to 35 dwellings per hectare (dpha) and adding a further higher threshold of 50 dpha for sites in urban areas, well served by public transport and local services. The Local Plan has reviewed the level of development to be provided in each part of the District and has selected its list of preferred housing sites with the minimum expected yield that should be provided. These are indicative only to allow the Council to calculate the potential overall supply and where feasible, developers will be expected to provide a higher level of development to the minimum targets.
4.15.6 Evidence from permissioned and implemented sites across the District has shown that in the majority of cases development yields of at least 35 units per hectare is very achievable even on larger sites where there is a higher requirement for on-site infrastructure. As a consequence, developers will be expected to justify why development density of less than 35dpha, cannot be achieved and also take steps to increase the number of homes above these targets where possible. The Policy is also required to provide guidance for any additional proposals which may come forward on windfall sites not identified in the Plan.
Policy Direction
4.15.7 The Policy is required to ensure that development proposals use land efficiently and are well considered in terms of urban design and place-making. The policy is considered to be justified with sufficient flexibility and is in line with the Local Plan's focus on urban regeneration, efficient use of land and maximising housing delivery. The policy should be read in conjunction with the Local Plan Design polices, urban housing Policy HO3 and the council's residential design guide SPD 'Homes and Neighbourhoods: A Guide to Designing in Bradford'. Companion Policy HO3 provides a list of locations where the Council expect developers to submit proposals, which meet a higher level and form of development.
Consultation
4.15.8 This Policy was considered as part of earlier work on the Core Strategy Partial Review (Policy HO5). The key issues raised included:
General support for the Policy
The Policy, if in line with the Plan's sustainability principles, should always ensure that developments achieve 50 units to the hectare with a minimum of 35 as an exception.
The revisions to increase the minimum target to 35 units and 50 units per ha would not allow for specific site constraints to be acknowledged. The changes therefore make the Policy too inflexible and might reduce design quality.
The addition of the higher threshold of 50 units in specific areas without these areas being defined might reduce site viability and mean that certain sites would fail to be delivered.
The policy changes are unfounded and are a means to reduce the amount of greenfield and green belt land that would be allocated in the Local Plan.
Reasonable Alternatives – HO2: Housing density
4.15.9 The reasonable alternatives considered:
Delete the policy, as net required yields are set out in the Settlement Profiles and on the Site Proformas. This will then leave a gap in the Local Plan in terms of other development potential which could come forward from further recycling or windfall sites including small infill of sites of less than 0.20ha.

Rewrite the policy with minimum density targets only – this would provide insufficient flexibility in the plan in relation to site and local constraints.
Design a policy which specifies the locations in the District where high densities will be required. This would make the policy long and overly complicated. The site proformas already set out where higher density development is more appropriate.
(168)Consultation Question 30
4.16 Preferred Option - HO3: Urban Housing
Introduction
4.16.1 A key aim of the Local Plan is to focus residential development on the main urban areas in the District through urban intensification. This approach will support regeneration of urban neighbourhoods, maximise existing infrastructure and make travel patterns more sustainable.
4.16.2 However, it is important for the Local Plan to ensure that urban housing does not just mean high rise development or low quality accommodation with inappropriate space and that new urban development integrates and enhances the character and quality of urban neighbourhoods.
4.16.3 Policy HO3 will aim to ensure that higher density urban housing schemes create sustainable homes and neighbourhoods, are high quality and deliver a range of higher density house types, townhouses, contemporary terraces, apartments and flats.
Urban Housing
4.16.4 The Local Plan will seek to encourage delivery of a range of high quality urban housing schemes within the main urban areas and city and town centres to support urban renewal and deliver higher density residential schemes that provide for a range of different groups, including families.
4.16.5 Within Bradford City Centre, the Canal Road Corridor, town centres and sites close to public transport facilities, such as train stations and high frequency bus routes, it will be appropriate to deliver urban housing schemes at higher densities. Although there is likely to be a wide range of densities for and within individual schemes depending on their location and dwelling mix. These areas are sustainably located near to services, and have the most potential to support higher densities with a reduced parking requirement.
4.16.6 Urban housing schemes will typically achieve densities greater than 50dph.The density of urban housing development may vary significantly within individual areas, not just because of relative accessibility levels but also other factors such as the design context and the mix of houses and flats.
4.16.7 Urban housing schemes should seek to incorporate the following broad higher density urban housing typologies depending on local context and accessibility.
Medium density low rise housing: including compact 2/3 storey rows of contemporary terraced housing/townhouses with small private garden/private outdoor space (approximately 50dph)
Higher density medium rise housing and flats: including mix of 3-6 storey townhouses, mews housing and flats over active ground floor uses (approximately 80dph)
High density high rise- including flats/apartments over 6 storeys (approximately 200pdh)
Policy Direction
4.16.8 The aim of the policy is to seek to avoid a one size fits all approach to higher density urban housing and to encourage a variety of densities and building types that sustain the local character, reduce reliance on car use, provide for different groups including families and provide outdoor space while enhancing and connecting to the local area.
4.16.9 The policy is considered to be justified in relation to the overall housing distribution and the Local Plan's focus on urban regeneration, efficient use of land and maximising housing delivery in sustainable urban areas. The policy includes criteria for assessing residential proposals for higher density urban housing schemes. The policy should be read in conjunction with the Local Plan Design polices and the council's residential design guide SPD 'Homes and Neighbourhoods: A Guide to Designing in Bradford'.
Consultation
4.16.10 This policy was not considered as part of earlier work on the Core Strategy Partial Review and is a new proposed local policy.
Reasonable Alternatives – HO3: Urban Housing
4.16.11 The reasonable alternatives considered:
Reasonable Alternative 1: Include a specific policy on urban housing schemes in the Local Plan
Reasonable Alternative 2: Do not include a specific policy on urban housing schemes in the Local Plan and rely on other Local Plan polices including Housing Mix and Design polices to achieve high quality urban development
(7)Consultation Question 31
4.17 Preferred Option - HO4: Housing Mix
Introduction
4.17.1 Sustainable mixed communities require a variety of housing in terms of size, type, tenure and price to meet the needs of different households. A key objective of the Local Plan is to ensure that planned housing growth will deliver a mix and balance of housing, which meets the future needs of the District's population and household growth.
4.17.2 The NPPF states that are a range of household groups who have particular housing requirements. It sets out that the needs of different groups should be assessed and reflected in planning policy in terms of the size, type and tenure of housing. The District's population is characterised by a very wide range of groups and communities including older persons, students, families, single person households and a diverse range of ethnic groups. To deliver a wide choice of high-quality homes and create sustainable inclusive and mixed communities, the Local Plan will plan for a mix of housing based on demographic and market trends and the needs of different groups in the District.
Policy Direction
4.17.3 The SHMA (2019) identifies evidence of the need and demand for housing of different groups in the District. The delivery of houses remains a priority, with an increasing emphasis on the need for flats and bungalows/level access accommodation. Strongest need is for two and three bedroom dwellings with continued need for one and four bedroom dwellings. The number and proportion of older person households is predicted to significantly increase over the plan period. A major strategic challenge for the Council is therefore to ensure that the housing and support needs of older people are met going forward. In summary, evidence indicates that there is an ongoing need for all types and sizes dwellings.
4.17.4 Policy HO4 will seek to ensure that new residential development provides for a range of housing types, in line with the revised NPPF. The strategic housing priorities are justified by evidence in the SHMA (2019). It is considered appropriate to maintain a flexible policy approach to housing mix on a site by site basis informed by latest evidence in the SHMA and other local evidence of need and demand. The preferred option removes previous policy criteria support custom and self-build housing specialist housing as these are covered by new standalone policies in the Local Plan
Consultation
4.17.5 This policy was considered as part of earlier work on the Core Strategy Partial Review (Policy HO8), The key issues raised in relation to Core Strategy Policy HO8 Housing Mix included:
The policy should be flexible with concern about criteria for being too prescriptive in terms of site and area specific housing mix.
General support for the policy and focus on delivering a mix of housing in the District.
The need to ensure the policy is based on robust/up to date evidence in the SHMA, in particular in regards to specialist accommodation.
The policy provision as drafted do not meet the needs of Gypsies and Travellers not covered by the planning definition.
Reasonable Alternatives – HO4: Housing Mix
4.17.6 The reasonable alternatives considered:
Reasonable Alternative 1: Set out specific percentages for the housing mix and the need, type and location of specialist housing for older people on a District or sub area basis.
Reasonable Alternative 2: Do not include a housing mix policy in the Local plan.
(20)Consultation Question 32
4.18 Preferred Option - HO5: Affordable Housing
Introduction
4.18.1 One of the Council's strategic aims is to ensure an adequate supply of affordable homes to buy or rent that match household incomes, build sustainable neighbourhoods by ensuring that new homes of the right type are built in the right location, and to support the economy by new home building and ensuring homes remain affordable.
4.18.2 Policy HO5 will aim to ensure that a sufficient supply of good quality affordable housing is delivered to meet identified affordable housing needs in the District. The Policy will support the Local Plan's strategic objectives.
Housing Need
4.18.3 The scale of affordable requirements has been assessed in the SHMA (2019) in line with NPPG requirements using latest household survey evidence. The overall net annual imbalance is indicated to be around 441 affordable dwellings each year. This represents approximately 25% of the Housing Requirement figure of 1704.
4.18.4 Evidence in the latest SHMA confirms that there is still a considerable need for affordable housing in the District, which requires a local policy response and justifies the continuation of a robust affordable housing policy across the District. It is important to note that not all affordable housing to meet need will be delivered through contributions from market housing sites. Affordable housing to meet need will also be delivered by utilising the council's resources, including developing land in its ownership; bringing empty homes back into use; the acquisition of existing properties and working with Registered Providers to deliver affordable housing schemes across the District.
Tenure Mix
4.18.5 The SHMA (2019) recommends a tenure split of 65% rented and 35% intermediate tenure (affordable home ownership products). This tenure split is based on local evidence of identified need and affordability. This is considered a material factor when implementing paragraph 64 of the NPPF that requires 10% of all housing to be for affordable home ownership on major developments, unless this would significantly prejudice the ability to meet identified affordable housing needs. Tenure mix will need to be considered on a site by site basis based on evidence in the SHMA, individual site characteristics and local need and demand for affordable housing. The tenure split set out in Policy HO5 will therefore continue to be used as a starting point for negotiations in the implementation of planning applications.
4.18.6 The preferred option has updated Policy HO5 to ensure that it is in line with the latest evidence of need and viability. The affordable housing targets as set out in criterion B are considered to be justified in relation to the overall need identified in the latest SHMA and Local Plan Viability evidence. The policy also includes criteria for assessing speculative proposals for rural exceptions via planning applications.
4.18.7 The policy does not include clauses in relation to securing First Homes sold at a discount to market price for first time buyers including key workers, through developer contributions. Following the Government consultation on 'Changes to the current planning system' (August 2020), at the time of drafting Government had not responded to the public consultation and the national policy position is unclear.
Viability
4.18.8 In line with national policy, the affordable housing targets have been set in relation to housing need and economic viability. Viability evidence justifies setting different affordable housing targets across the District due to differences in values and site characteristics (greenfield/brownfield). Where an applicant wishes to demonstrate that a site is financially unviable at the level of policy requirements required by the Council, they must provide a suitably detailed Viability Assessment to support this at the application stage, which will be independently assessed.
Policy Direction
4.18.9 The preferred option has updated Policy HO5. The policy is considered to be justified in relation to the overall need identified in the latest SHMA and viability evidence. The updated policy includes criteria for assessing speculative proposals for rural exceptions via planning applications, applying the vacant building credit and delivering affordable home ownership products in line with national policy.
Consultation
4.18.10 This policy was considered as part of earlier work on the Core Strategy Partial Review (Policy HO11).
4.18.11 The key issues raised in relation to Core Strategy Policy HO11 Affordable Housing included:
The tenure mix in part D needs to be flexible and take into account a range of tenures on site by site basis.
Affordable housing needs are unlikely to be met through the eligible market housing led developments using the proposed housing distribution based on the proposed targets.
The need for the policy to be informed by Local Plan viability evidence in setting affordable housing targets.
General support for the policy and focus on delivering affordable housing in the District.
The need to ensure the proposed affordable housing targets are maximums with flexibility required to reduce due to viability issues on a site by site basis.
There is no definition of affordable of home.
The affordable housing threshold needs to be defined in terms of number of units.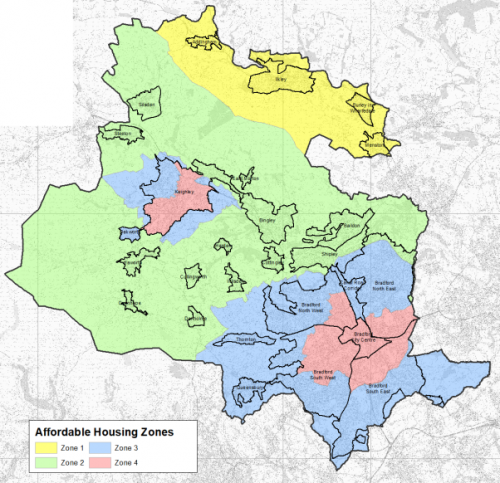 Figure 4.18: Affordable Housing Zones
Reasonable Alternatives – HO5: Affordable Housing
4.18.12 The reasonable alternatives considered:
Reasonable Alternative 1: Require District wide affordable housing targets
Reasonable Alternative 2: Require affordable housing targets below current policy.
Reasonable Alternative 3: An alternative approach to the tenure split and types of affordable housing required
(162)Consultation Question 33
4.19 Preferred Option – HO6: Self-build & Custom Housebuilding
Introduction
4.19.1 Policy HO6 will aim to generate land for Self-Build and Custom Housebuilding (SBCH) plots throughout the District during the period of the plan.
4.19.2 The National Planning Policy Framework (NPPF) requires local planning authorities to widen opportunities for home ownership by identifying the size, type, tenure and range of housing that is required in particular locations, reflecting local demand. The government wants to enable more people to build or commission their own home (Custom Self Build) and wants to make this form of housing a mainstream housing option.
4.19.3 The Self-Build and Custom Housebuilding Act 2015 and the Self-Build and Custom Housebuilding (Register) Regulations 2016 require local authorities to maintain a Register of individuals and associations of individuals who wish to acquire land to build their own homes and for those authorities to have regards to the Register in carrying out planning and other functions. A self and custom build register (self-build register) has been established in order to provide evidence of demand for Self & Custom build plots within Bradford district. Applicants on the register must meet all of the eligibility criteria for entry on the register.
4.19.4 The 2016 Housing and Planning Act introduced a duty on authorities to give sufficient development permissions to meet the demand on the Register.
4.19.5 National planning guidance, set out in the Planning Practice Guidance (NPPG), states that local planning authorities should use the demand data from the registers in their area, supported as necessary by additional sources, when preparing their Strategic Housing Market Assessment (SHMA) to understand and consider future need for this type of housing in their area. Policy guidance also indicates in considering whether a home is a self-build or custom build, relevant authorities must be satisfied that the initial owner of the home will have primary input into its final design and layout.
Self-Build and Custom Housebuilding Need
4.19.6 The SHMA (2019) sets an annual requirement of 43 dwellings for Specialist housing including SBCH plots. The SHMA used the 2014-based household projections and latest (2018) affordability indicators, to calculate the minimum local housing need figure for Bradford District of 1,704 dwellings each year. This suggested 2.5% of the annual dwelling requirement should be for other housing such as self-build and specialist housing, to reflect the needs of the population. Therefore, the Council will aim to encourage the provision of at least 774 (43 x 18-year plan period) SBCH plots within the Plan period.
4.19.7 Self-build housing in particular can provide a valuable root into affordable housing through the shared use of labour and skills as part of collective or co-operative housing projects. These types of projects can include professional and technical assistance from local authorities and registered providers.
Policy Direction
4.19.8 Policy HO6 will aim to generate land for SBCH plots from medium to larger allocated housing sites and windfall housing sites where the total yield of the site is at least 100 dwellings. Provision for SBCH plots will also come from small sites which don't meet criteria for allocations due to size, these will come from permissions for individual units.
4.19.9 Developers of larger sites, which include SBCH plots, should produce a marketing plan to promote the sale and development of these plots within the early phasing of the sites development. Estate Agents and media sources local to the CSB plots should be used to promote the sale of plots to interested individuals. Where appropriate the Council will offer to provide details of available SBCH plots to individuals and groups registered on the Councils "Self and Custom Build Register.
4.19.10 To encourage development and support self-build in the District the Council will investigate opportunities for CSB dwellings on Council owned land and promote SBCH when disposing of land suitable for housing development.
4.19.11 Community organisations responsible for the development of Neighbourhood Plans will be encouraged to include land for SBCH as proposals within the Plans they produce. The Council is undertaking a call for sites, including for SBCH as part of this consultation.
4.19.12 A system to monitor the number of SBCH plots receiving planning consent in the Bradford District will be developed and managed by the Council. This information will be used to review future changes in need for self-build housing and the numbers of CSB plots required.
Reasonable Alternatives – HO6: Self-build & Custom Housebuilding
4.19.13The reasonable alternatives considered:
• Integrate the policy topic within a wider specialist housing type policy – proposed policy focus raises the profile of the specific housing policy, which includes a set of detailed considerations which may not be fully drawn out through an integrated policy.
(8)Consultation Question 34
4.20 Preferred Option - HO7: Specialist Housing and Accommodation
4.20.1 A key aim of the Local Plan is to deliver housing to meet identified housing needs in the District, including the provision of housing for older people and groups with specialist needs.
4.20.2 The NPPF provides the national policy context for the provision of specialist housing, this is further supported by Planning Practice Guidance (PPG). Section 5 of the NPPF outlines the government objective of boosting the supply of homes, this includes ensuring the needs of groups with specific housing requirements are addressed including older people and people with disabilities. PPG includes a section on Housing for older and disabled people, which highlights the importance of planning for the housing needs of these groups and that LPAs should identify and set policies to address the housing needs of older and disabled people
Specialist Housing Need
4.20.3 Specialist housing can cater to the specific needs of a variety of people within the community, including older persons and people with disabilities. The specialist accommodation required by these groups varies from ages restricted non supported general market housing, independent self-contained accommodation with limited support, such as retirement living/sheltered housing, to extra care housing and residential care and nursing homes that provide non self-contained residential accommodation for people who need regular care and support. Supported living can be delivered in a range of settings, including individual flats or houses, shared accommodation or clusters. Supported living refers to the way support is organised rather than specifying one type of accommodation that is required.
4.20.4 The Bradford SHMA (2019) provides an assessment of specialist housing need in the District. There is evidence to support a programme of accommodation delivery to help meet the needs of older people and those with disabilities. Analysis suggests across Bradford District an increase of 3,900 units of specialist older person (C3) dwellings such as extra care and retirement housing (which is part of the overall housing need); and an increase in around 2,200 of C2 residential care units. In terms of people with disabilities there are expected to be 13,859 more people with a disability by 2037, representing 21.6% of residents in households
4.20.5 When planning for specialist housing and accommodation is may be appropriate to consider 'ladders of care' where schemes are designed to enable residents to move from individual dwellings with limited care support to a more supported care environment should this be required as needs change. Flexibility in scheme design is also important in relation to the differing needs of partners and sufficient attention is often required in creating the right facilities for on-site staff, ad-hoc care support. managing complex medical needs and visitor requirements (long and short term) together with ensuring external space is well designed with green spaces and a therapeutic environment. The complex and varied health, care and support needs of residents should be central to scheme designs. There is much good practice in the specialist housing and accommodation sector for such things as designing for dementia and providing a positive living environment for residents both young and old. In some circumstances and in a post-pandemic environment, there may also be opportunities to innovate and provide integrated care models – combining pre-school and senior care within single settings.
4.20.6 Based on identified need it is considered important for the Local Plan to ensure that specialist housing is supported in appropriate locations. However, whilst some of this need may be met through the provision of specialist accommodation, it is also important to note that many older persons and people with disabilities may not want or need specialist accommodation or care and may wish to remain in their own home for as long as possible stay or move to general housing that is already suitable, such as bungalows, or homes which can be adapted to meet a change in their needs. These housing needs will be met through general housing, including new homes built to be adaptable and to higher accessibility standards as set out in Policy HO9 Housing Standards. The integration of effective care technology and medical assistance tools may also be central to supporting people to live independently and well for longer. Within the right adaptable housing environment familiar surroundings with the right support can help people with dementia for example to continue to lead an active and independent life for longer.[5] The Council is undertaking a call for sites, including for specialist housing sites as part of this consultation.
Policy Direction
4.20.7 Policy HO7 will seek to support an increase in the provision of specialist housing schemes such as accommodation older persons and people with disabilities in suitable locations to meet identified need.
4.20.8 The policy is considered to be justified in relation to the ageing population in the District and identified housing needs of these groups in the SHMA (2019) and the Local Plan's focus providing a range of housing that meets the housing needs of different groups. The policy should be read in conjunction with the local plan polices SP14, SP15, urban design policies DS1 to DS5 and housing policies in relation to dwelling mix and housing standards together with the council's residential design guide SPD 'Homes and Neighbourhoods: A Guide to Designing in Bradford'.
Consultation
4.20.9 This policy was not considered as a stand-alone policy as part of earlier work on the Core Strategy Partial Review and is a new proposed local policy.
Reasonable Alternatives – HO7: Specialist Housing and Accommodation
4.20.10 The reasonable alternatives considered:
Reasonable Alternative 1: Include a specific policy on specialist housing in the Local Plan with targets for settlements/sub areas
Reasonable Alternative 2: Do not include a specific policy on specialist in the Local Plan and rely on other Local Plan polices including Housing Mix, Housing Quality polices to support the delivery of specialist housing to meet needs.
(6)Consultation Question 35
4.21 Preferred Option - HO8: Sites for Gypsies, Travellers and Travelling Showpeople
Introduction
4.21.1 The 2019 NPPF states in Paragraph 61 'the size, type and tenure of housing needed for different groups in the community should be assessed and reflected in planning policy (including travellers)'.
4.21.2 The 2015 national Planning Policy for Traveller Sites (PPTS) requires an assessment of the current needs of Gypsies and Travellers and Travelling Showpeople and a projection of future needs. An updated Gypsy and Traveller and Travelling Showperson Accommodation Assessment (GTTA) (2021) has been undertaken as part of the update to the SHMA (2019). This provides latest available evidence to identify the accommodation needs of Gypsies and Travellers and Travelling Showpeople across the District. The update incudes additional evidence of the need for Gypsy and Traveller accommodation, and in particular the needs of households in bricks and mortar, through engagement and close working with Leeds GATE and the Traveller and Showperson's communities and the settled community to identify any additional accommodation needs.
4.21.3 In summary, the latest evidence identifies that across the district there are 52 Gypsy and Traveller pitches and 37 households living on the 38 occupied pitches. In terms of Gypsy and Traveller site provision, in Bradford District there are two Council sites and two private permanent sites. There is also one Travelling Showpersons' yard with 36 plots, with 18 occupied. The two largest sites are located at Esholt (total capacity 19 pitches) and Mary Street (total capacity 28 pitches). The majority of pitches on the Esholt site are vacant and due to management issues and site location.
4.21.4 A major change in planning policy, introduced by PPTS (2015), was to amend the definition of both 'Gypsy and Traveller' and 'Travelling Showperson' to exclude, for planning purposes, anyone who has stopped travelling on a permanent basis. The GTAA evidence therefore expresses two levels of need for pitches: a 'cultural' and 'PPTS' need. This is to ensure that the overall needs of the travelling community are fully reflected in the evidence base in line with the Housing Act (2004).
4.21.5 Other groups of travellers may also be able to demonstrate a right to culturally appropriate accommodation under the Equality Act (2010). In addition, provisions set out in the Housing and Planning Act (2016) include a duty for local authorities to consider the needs of people with respect to the provision of sites on which caravans can be stationed, or places on inland waterways where houseboats can be moored. The housing needs of Gypsy and Traveller Households who do not meet the planning definition of a Traveller will therefore also need to be assessed as part of the wider housing needs of the area.
Policy Direction
4.21.6 The latest evidence in the GTAA indicates over the plan period a need of 62 pitches. It is anticipated that turnover at existing sites may address the needs. The GTAA (2019) recommends that the Council should prudently plan for a minimum PPTS need of 26 pitches over the plan period. This includes the need for 15 pitches within the first 5 years of the 2020-202021 to 2024/25 and a longer term need of 11 pitches 2025/26 to 2037/38. It should be noted that the pitch supply at the Esholt site has not been included in the supply calculations as it is currently considered unavailable due to ongoing management issues and site specific matters. The council will continue to explore the reasons for this and seek to fully consider the future availability of existing pitch supply at this location as part of the Local Plan preparation.
4.21.7 The GTAA has not evidenced any need for additional Travelling Showperson plots.
4.21.8 There are a number of ways to delivery temporary places where Travellers can stop whilst passing through a local authority area. These include transit pitches, stop over places and negotiated stopping arrangements. Given the low level of unauthorised encampment activity, it is recommended that the council adopts a Negotiated Stopping policy to address any needs arising from households travelling through the district
4.21.9 The preferred option for Policy HO8 will aim to ensure that a sufficient supply pitches are delivered to meet the needs of Gypsies, Travelers and Travelling Showpeople and appropriate criteria are included for allocating sites and determining planning applications.
4.21.10 The revised Policy HO8 below should be read alongside Policy HO4 Housing Mix which relates to the mix of housing need within the district and making provision for a range of specialist accommodations types to meet identified local need.
4.21.11 Given the new pitch requirement identified in Policy HO8 the council will undertake a specific call for sites across the District as part of this Regulation 18 consultation, with a particular focus on the Regional City of Bradford, to identify the most appropriate sites for additional Gypsy and Traveller pitches, which will offer locations and accommodation which are both sustainable and meet identified needs.
Consultation
4.21.12 This policy was considered as part of earlier work on the Core Strategy Partial Review (Policy HO12). The key issues raised in relation to Core Strategy Policy HO12 included:
• Concern raised from neighbouring authority regarding reduction of pitches than the previous GTAA and that any updated evidence of need should be fully robust.
• The strategic nature of the policy falls under the remit of 'Duty to Cooperate'. and further dialogue between Leeds and Bradford involving the Gypsy and Traveller Exchange (GATE) is requested
• That all gypsy and traveller sites should be located outside of flood zone 3 as such development is inappropriate. Any gypsy and traveller sites proposed in flood zone 2 are only acceptable subject to them being in accordance with the Sequential and Exception Tests.
• The first of the criteria listed at HO12 F, should be omitted as it is not consistent with the PPTS
Reasonable Alternatives - HO8: Sites for Gypsies, Travellers and Travelling Showpeople
4.21.13 The Reasonable Alternatives considered:
Reasonable Alternative 1: Plan for a lower or zero pitch target on the basis of turnover addressing supply.
(6)Consultation Question 36
4.22 Preferred Option - HO9: Housing Standards
Introduction
4.22.1 A key objective for the District is to ensure that new housing creates popular neighbourhoods with high standards of quality and design. It is important that new housing is designed to create high quality places where people aspire to live, which supports strong communities and healthy lifestyles, and responds to the impacts of climate change. Policy HO9 will help ensure that housing developments are of high quality and contribute to inclusive built environments in the District in support of Policy SP1.
4.22.2 The revised NPPF sets out that good design is a key aspect of sustainable development and that Local Plans should set out a clear design vision and expectations for good design. The council has updated its urban design policies and has prepared a Supplementary Planning Document (SPD) entitled Homes and Neighbourhoods: A Guide to Designing in Bradford which together with policies on transport and creating healthy places provides clarity about design expectations and a framework for implementing Policy HO9 and helps to ensure that new housing will create places, with a high quality standard of design and healthy communities in Bradford.
4.22.3 The NPPF requires the Council to have a clear understanding of housing needs in their area, including those for people with specific housing needs and to set policies to meet these needs. This includes policies requiring optional technical standards for space standards and accessible homes. In line with the PPG these policies should be based on clear evidence of both need and viability.
4.22.4 In 2020 the Government consulted on raising accessibility standards for new homes. This emphasised the Government's intent to support the delivery of more accessible homes that meet the needs of older and disabled people and included options for ensuring more new homes are built to higher accessibility standards. The council will seek to ensure its approach to housing standards is in line with latest national policy throughout the preparation of the Local Plan.
4.22.5 In regards to sustainable building standards, national planning policy requires any local requirements for the sustainability of buildings to reflect Government's policy for national technical standards. In response to consultation on the Future Homes Standard, the government has set out plans to improve the energy performance of new homes, with all homes to be highly energy efficient, with low carbon heating and be zero carbon ready by 2025. These homes are expected to produce 75-80% lower carbon emissions compared to current levels. To ensure industry is ready to meet the new standards by 2025, new homes will be expected to produce 31% lower carbon emissions from 2021.
Policy Direction
4.22.6 The Bradford SHMA (2019) and Housing Research Evidence of Need and Viability (2016) provide evidence of the need for accessible and adaptable housing and minimum space standards for new housing, which has been used in formulating the revisions to policy HO9. The evidence identifies a need and demand for accessible housing resulting from an ageing population in the District and levels of disability amongst the population. The evidence also highlights specific local issues with regards to overcrowding and the need for larger family housing, the quality, age and adaptability of the current housing stock and public health issues. From the evidence it is considered that there is a clear need for accessible and adaptable homes and homes built to suitable space standards that justifies the inclusion of a policy in the Local Plan for setting optional technical standards exceeding the minimum standards required by Building Regulations.
4.22.7 The preferred option has updated Policy HO9 to ensure that it is in line with the latest evidence of need and the revised NPPF in relation to design and housing standards. The revised Policy HO9 sets out minimum acceptable standards for internal space standards and optional technical standards for accessible and adaptable housing and criteria to be considered in the design of new residential development. All new build homes will be expected to meet Building Regulation requirement M4(2) 'accessible and adaptable dwellings'. Larger sites of ten dwellings or more should include at least 5% of dwellings that meet requirement M4(3) 'Wheelchair user dwelling' of the Building Regulations. Where affordable housing is required on site this requirement is split between the market and affordable homes. Part M of the Building Regulations sets a distinction between wheelchair accessible and wheelchair adaptable dwellings. In most cases it is expected that market housing provided through planning requirements will be wheelchair adaptable.
4.22.8 The standards in Policy HO9 have been assessed as part of the Whole Plan Viability Study. The standards in Policy HO9 are therefore considered deliverable and currently set at a level to meet need anticipated need and are flexible to respond to individual site circumstances. This will ensure that site specific factors such as vulnerability to flooding, the topography of the site or other circumstances which may make a site less suitable for accessible dwellings will be taken into account, particularly where step free access cannot be achieved or is not viable.
Consultation
4.22.9 This policy was considered as part of earlier work on the Core Strategy Partial Review (Policy HO9), The key issues raised in relation to Core Strategy Policy HO11 Housing Requirement included:
The standards are not justified by evidence of need in the SHMA. Bradford is considered to have a younger population profile.
The need for the policy to be informed by Local Plan viability evidence in setting optional standards.
General support for the policy and focus on high quality new housing in the District
The policy should set higher sustainable housing standards to respond to climate change.
The Housing Design Guide is an SPD and should not be a Local Plan policy.
Conflict between density policies and design requirements.
Reasonable Alternatives – HO9: Housing Standards
4.22.10 The reasonable alternatives considered:
Reasonable Alternative 1: Maintain current policy approach of requiring a proportion of homes on larger site to be accessible but not setting out the detailed requirement in relation to optional technical standards.
Reasonable Alternative 2: Do not require optional technical standards for housing.
(26)Consultation Question 37
4.23 Preferred Option - HO10: Overcrowding and Empty Homes
Tackling Key Housing Challenges
4.23.1 One of Bradford's most pressing housing challenges is overcrowding. It is well documented that overcrowding is not just a housing issue – it directly contributes to poor health and poor educational attainment and seriously damages quality of life for the families and households affected.
4.23.2 Approximately 10% of households in the District have at least one room too few in relation to their household size according to the 2011 Census (using the Occupancy Rating), 4,523 more households than in 2001. Moreover 3% of households would be classed as severely overcrowded with at least two rooms too few. The Council's Housing Strategy (2020-30) indicates that there are approximately 15,000 homes which are subject to overcrowding, based upon SHMA research.
4.23.3 Severe overcrowding is concentrated in a number of urban neighbourhoods including Great Horton, Manningham and Barkerend. Part of the key objectives in the housing strategy is to deliver more family housing and increase the supply of larger homes in areas with high levels of overcrowding.
4.23.4 At its most basic level, rising rates of overcrowding are a symptom of lack of availability and choice of more suitable housing. Therefore, the key way in which overcrowding will be successfully tackled is through the increase in the right housing supply set out in the local plan. However, making better use of existing stock i.e. bringing empty homes back into use and reducing under-occupation is also a priority. Under- occupation/making best use of stock are key national government priorities.
4.23.5 The areas in the District with the highest concentrations of low income households are also associated with the poorest quality housing stock, overcrowding and empty properties, and the resultant effects of poor health and poor quality of life in general. The pandemic has recently further highlighted the connections between overcrowded housing and health with BME families being disproportionately impacted.
4.23.6 Policy HO10 should also be read in conjunction with polices HO3 and HO4 which focus upon diversifying the District's housing stock to respond to improving the type and range of housing (including urban edge and city housing) reflective of District's diversity and complex housing needs.
Reasonable Alternatives – HO10: Overcrowding and Empty Homes
4.23.7 The reasonable alternatives considered:
Reasonable Alternative 1: Integrate policy within other housing policies in the Local Plan
Reasonable Alternative 2: Do not include a specific policy on overcrowding and empty homes in the Local Plan and rely on the council's housing strategy and related delivery strategies only.
4.24 Planning for Places and Communities
Protecting and enhancing our environment, managing our resources and waste
4.24.1 The environment section focuses on the protection and enhancement of environmental assets and on the use of resources. The Bradford District has an impressive range of heritage assets, areas of different landscape character and distinctive habitats of wetland, woodland and upland. The District also has a series of natural resources which need to be carefully managed to ensure that they are used sustainably.
Policy Overview
4.24.2 Policy EN1 looks at the possible introduction of Green Infrastructure standards for new developments. Policies EN2-EN3 are concerned with the natural environment specially protecting and enhancing important wildlife sites and trees, and requiring a net gain in biodiversity as part of new developments. Policies EN4-EN6 look at the historic environment and countryside, particularly the wealth of built heritage assets and important landscapes – ensuring their protection and enhancement through development.
4.24.3 Policies EN7-EN9 relate to environmental protection, particularly looking at addressing flood risk, providing a framework for improving air quality, and considering how we will manage the impact of development on the environment.
4.24.4 Policy EN10 focusses on energy efficiency and usage in new developments as well as looking at the potential for the provision of renewable energy. Whilst Policies EN11-EN17 look at the management of the District's natural resources, in particular the mineral reserves, and how the impacts of their extraction can be minimised. Policies EN18-21 tackle the management of waste, identifying sites to safely process waste materials.
Creating healthy and vibrant communities, designing high quality places     
4.24.5 An important element of sustainable development is ensuring that the places that are created through new development are of a high quality and have access to the services and facilities that residents need. The District has a wealth of open spaces, and a wide range of community facilities many of which are highly valued and well used by residents. The second part of this section focusses on the protection, enhancement and provision of such facilities and spaces, as well as considering the impacts of new development on the capacity of these facilities. Consideration is also given to the health and wellbeing impacts of development – looking to ensure new places are designed in a way to support healthy and active lifestyles. The final set of policies provide a framework for ensuring that development is of a high quality design.
Policy Overview    
4.24.6 Policy CO1 seeks to protect the wide range of designated open spaces and also requires new open space to be provided within new development. Policy CO2 looks to support the provision of new and enhanced community facilities, and protect existing ones to ensure communities can meet their day-to-day needs. Whereas Policy CO3 seeks to ensure the creation of healthy places, requiring major developments to carry out a health impact assessment.
4.24.7 Policies DS1-DS5 provide a suite of policies which seek to create high quality places, which respond to the landscape and urban character, integrate and enhance the public realm and which are safe and inclusive.
4.25 Preferred Option - EN1: Green Infrastructure Standards
Background
4.25.1 Policy SP10 sets out the strategic approach to the protection, enhancement and provision of green infrastructure across the District. However, in order to ensure that sufficient green infrastructure is provided as part of new developments, the Local Plan is considering the introduction of an additional policy which specifically sets out the green infrastructure standards which new development is expected to meet.
4.25.2 The Government's 25 Year Environment Plan includes a commitment to drawing up a national framework of green infrastructure standards, ensuring that new developments include accessible green spaces and that any area with little or no green space can be improved for the benefit of the community.
Natural England - Green Infrastructure Standards Pilot
4.25.3 Natural England is currently in the process of trialling a pilot of the national green infrastructure standards in a number of areas across the country. The Leeds City Region (including Bradford) is one of the areas participating in the pilot. Once these standards have been finalised and published, the Council will need to consider whether to introduce them into local planning policy.
4.25.4 The District includes a variety and wide range of different settlements and landscape types and this may require a localised approach to green infrastructure standards. The Natural England GI Standards Framework is considering a number of existing green space standards already in use across the country.
4.25.5 One of the set of standards is the Urban Greening Factor (UGF) approach, which could be applied in the more urbanised city of Bradford and towns of Keighley, Bingley and Shipley to help increase GI provision in these urban areas.
4.25.6 The UGF works well in higher density urban districts that generally struggle to significantly increase the quantum of green space but can benefit incrementally from the addition of vegetated surfaces, green roofs, green walls, tree planting and sustainable drainage measures that deliver increased permeability whilst also supporting a range of other services.
Natural England Accessible Greenspace Standards
4.25.7 Another set of standards being considered are the Natural England Accessible Natural Greenspace Standards (ANGSt) which have recently been updated to include new distance/size categories to better reflect the different sizes and types of spaces that are present in different areas of the country. The pilot work indicates that the ANGSt may form the basis of the new GI standards in terms of the quantity and accessibility of spaces.
4.25.8 Policy CO1: Open Spaces, Sport and Recreation already sets out a requirement for developments to meet relevant open space provision standards. However, these standards are specifically aimed at new open space provision and may not fully provide the multi-functional range of spaces and assets that GI provides. The Green Infrastructure standards will consider the provision of a wider range of interventions / green infrastructure assets e.g. street trees, green roofs, green walls, sustainable drainage systems.
Reasonable Alternatives – EN1: Green Infrastructure Standards
Reasonable alternatives considered include:
No specific policy on Green Infrastructure standards.
Incorporate the standards into the Strategic Green Infrastructure policy (Policy SP10).
Rely on the open space standards referred to in Policy CO1 to ensure provision of greenspace as part of new developments.
(157)Consultation Question 39
4.26 Preferred Option - EN2: Biodiversity and Geodiversity
Bradford's Biodiversity and Geodiversity Assets
4.26.1 Biodiversity is the widespread term for biological diversity, which represents the richness and variety of plants, birds, animals and insects. In recent years, concerns about biodiversity have increased. It is recognised that without this variability in the living world, ecological systems and functions could break down, with detrimental consequences for all forms of life.
4.26.2 There is a range of habitats within the District including substantial areas of upland heathland, blanket bog, woodlands, valley wetlands and unimproved grasslands. The demand for development on the lower-lying Coal Measures has fragmented these habitats, although unique habitats have also been created throughout the District as by-products of industrialisation, such as reservoirs, canals and quarries.
4.26.3 The South Pennine Moors represent a significant proportion of heathland in England and show exceptional diversity compared to other examples in the European Union. As a Special Protection Area (SPA) and Special Area of Conservation (SAC), the South Pennine Moors are protected under the European Habitats Directive and the European Birds Directive because they contain habitat types which are rare or threatened, and due to the importance of the breeding bird populations. The South Pennine Moors retain their protection under UK legislation now that the UK has left the EU.
4.26.4 The planning system is required to contribute to and enhance the natural and local environment by minimising impacts on biodiversity and providing net gains in biodiversity, contributing to the government's commitment to halt the overall decline in biodiversity and establishing coherent ecological networks that are more resilient to current and future pressures. Distinctions should be made between the hierarchy of international, national and locally designated sites. The NPPF makes it clear that plans should seek to allocate land with the least environmental or amenity value.
4.26.5 Bradford has a significant number of sites that need to be preserved and enhanced to protect their ecological value; these include sites with international designations (Special Protection Areas, Special Areas of Conservation), national designations (Sites of Special Scientific Interest) and local designations. Since the adoption of the Core Strategy there have been a number of changes in the way local sites are designated and the policy approach to biodiversity and development. Sites of Ecological/ Geological Importance (SEGI), Regionally Important Geological Sites (RIGS) and some Bradford Wildlife Areas (BWA) have been combined into one system known as Local Wildlife Sites (LWS) and Local Geological Sites (LGS) Sites.
4.26.6 Sites of Special Scientific Interest (SSSIs) are nationally designated sites which also underpin sites designated to meet international obligations. There are 4 SSSIs in Bradford. There are also 108 Local Wildlife Sites, 16 Local Geological Sites (LGS) and 4 Local Nature Reserves, all of which contribute to environmental quality and sense of place. A full list of designations can be found in Appendix 9.
4.26.7 A regional Wildlife Habitat Network (WHN) has also recently been identified and mapped by West Yorkshire Ecology in relation to grassland, woodland, wetland and heathland networks connecting designated sites of biodiversity and geological importance and notable habitat links. The creation of the WHN is intended to prevent further fragmentation of ecological resources within the district and to adjoining authorities.
Biodiversity and Development
Biodiversity Net Gain
4.26.8 There is an increasing emphasis on providing net gains for biodiversity in the revised NPPF (2019) and also the 25 Year Environment Plan (2018). The forthcoming Environment Bill will mandate 'biodiversity net gain'. The NPPF states that planning policies and decisions should 'contribute to and enhance the natural and local environment by minimising impacts on and providing net gains for biodiversity'. Whereas plans should 'identify and pursue opportunities for securing measurable net gains for biodiversity'.
4.26.9 The PPG on the Natural Environment reinforces the movement towards embedding biodiversity net gains "as an integral part of policy and decision making" whilst emphasising that net gain is an approach to development that leaves the natural environment in a measurably better state than it was beforehand. It notes that using a metric is a pragmatic way to calculate the impact of a development and the net gain that can be achieved. The PPG also sets out both strategic and small scale measures to achieve the ambition of net gains.
4.26.10 The Biodiversity and Development section of Policy EN2 requires net gains in biodiversity to be secured, to ensure habitats for wildlife are enhanced and left in a measurably better state than they were pre-development. Developers must assess the type of habitat and its condition before submitting plans, and then demonstrate how they are improving biodiversity. To achieve this (for all development except householder applications – see below) the Defra Biodiversity Metric 2.0 (or its replacement) should be used to calculate the baseline biodiversity units of the site, as a comparison for net gain.
4.26.11 The Biodiversity Metric 2.0 provides a way of measuring and accounting for biodiversity losses and gains resulting from development or land management change. The tool produces a quantifiable number of biodiversity units to determine if there will be a net gain or a net loss in biodiversity after construction. The Metric incorporates similar but separate calculations for linear features such as hedgerows and rivers and those measured by area such as grassland or woodland. The output of the Metric is an estimate of the biodiversity score after the proposed development has been completed. To demonstrate biodiversity net gain, the development must raise the score by at least 10% (as set out in the Environment Bill). In line with the Environment Bill, if activities which would lower the biodiversity value are carried out after 30th January 2020 (unless in accordance with a planning permission or other consent/permission), then the pre-development biodiversity value is taken to be the biodiversity value before those activities were carried out.
4.26.12 For householder applications, the detailed provisions of this policy do not apply, but there is still an expectation in most instances that an element of biodiversity gain should be incorporated into the proposal using integrated enhancements, such as bird boxes, insect 'hotels', bee blocks, bat boxes and / or hibernation holes. Additional guidance is contained in the Council's Home and Neighbourhoods Design Guide SPD.
4.26.13 Individual well-being and community implications of applying biodiversity net gain should also be considered, so that benefits are gained for both wildlife and people.
4.26.14 Further guidance can be found in the Best Practice Guidance for Biodiversity Net Gain (CIRIA, IEMA & CIEEM, 2019); this principles document is seen as the definitive guide and is supported by more detailed underpinning guidance.
4.26.15 The Council will develop a biodiversity checklist as part of the planning application validation process which will provide guidance as to the appropriate level of ecological assessment to accompany an application.
Mitigation hierarchy
4.26.16 Within Biodiversity Net Gain, a mitigation hierarchy is used to avoid, mitigate, compensate and / or offset for biodiversity losses. This is illustrated in Figure 4.26.1
Figure 4.26.1: Mitigation Hierarchy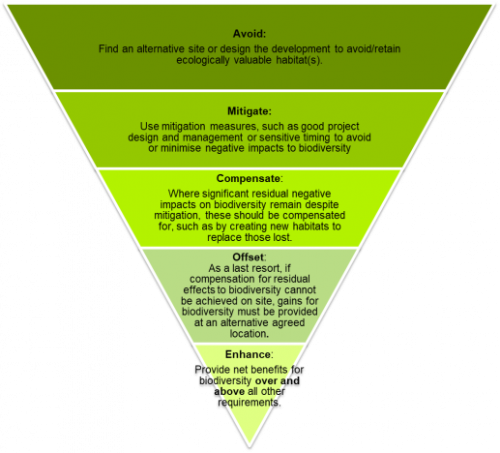 4.26.17 Where development would be harmful to the natural environment, developers must consider alternatives that would result in less harm, and to incorporate appropriate mitigation and, where relevant, compensation so as to deliver a net gain in biodiversity. Biodiversity offsetting should only be delivered as a last resort. Where biodiversity offsetting is agreed, then the offset should be provided within the vicinity of the site where possible or else within the District, contributing to net gains that will result in a measurable enhancement of the WHN or other suitable location.
4.26.18 The mitigation hierarchy complements and works with the metric and a biodiversity net gain will be easier to achieve following its application.
Reasonable Alternatives – EN2: Biodiversity and Geodiversity
4.26.19 The reasonable alternatives considered and discounted for this policy include:
Policy topic is covered through two linked policies – updated policy approach condenses detail and integrates within a single policy format which presents a more succinct and easy to understand approach.
Policy content is reduced further and reference is made to supporting tables within reasoned justification – in a complex policy area this approach can cause confusion over what is specific policy and what issues are more for wider consideration or supportive of policy.
(159)Consultation Question 40
4.27 Preferred Option – EN3: Trees and Woodland
4.27.1 Trees and woodlands are key elements of a sustainable environment. They play an important role in tackling the climate emergency by sequestering atmospheric carbon, and can help to improve the District's air and water quality by absorbing harmful pollutants and runoff, whilst also helping to reduce the impacts from flood risk. They provide valuable biodiversity functions and habitats for wildlife whilst visually enhancing both urban and rural landscapes. They provide important components of the wider green infrastructure network and create improved opportunities for leisure and recreation, which in turn support the health and well-being of communities.
4.27.2 However, protecting and enhancing the District's woodlands given the potential threats from disease and the need to accommodate population growth and infrastructure will potentially be a significant challenge.
4.27.3 One of the ways in which the District can respond to the environmental challenges it faces is through emphasising the important role that protecting trees and woodland, and the planting of additional ones can play in new developments. For instance, the proper integration and protection of trees and woodland within the design and layout of a development can help to ensure that nature is prioritised. This will allow diverse ecosystems to flourish and will support the quality of place and local distinctiveness, as well as helping to address climate change mitigation and resilience.
4.27.4 Policy EN3 now requires the planting of new trees within developments in order to align with the Government's 25 Year Environment Plan, which seeks to increase national woodland cover to 12% by 2060. The policy is also supported by the additional guidance on tree planting contained in the Council's Home and Neighbourhoods design guide SPD.
4.27.5 The NPPF (2019) introduced a new test for the protection of ancient woodland and ancient or veteran trees, stating that development resulting in the loss or deterioration of irreplaceable habitats (including such trees) should be refused, unless there are wholly exceptional reasons and a suitable compensation strategy exists. Policy EN3 has been updated to reflect these changes in national policy and offers and increased level of protection for the District's 550 Ha of ancient woodlands and ancient or veteran trees which have a unique biodiversity value which cannot be replaced once destroyed.
4.27.6 The Government's Standing Advice on protecting ancient woodland, ancient trees and veteran trees, is a material consideration and should be adhered to at all times. This includes advice regarding the mitigation hierarchy, the use of buffer zones, compensation, the planting of new native woodland and the restoration of existing ancient woodland.
Reasonable Alternatives – EN3: Trees and Woodlands
4.27.7 The reasonable alternatives considered:
Update the policy but include a narrow range of policy considerations or reduced range of changes – policy as drafted presents a focused succinct approach to the policy topic.
(156)Consultation Question 41
---
back to top
back to top